Small Business Spotlight: Blue the Salon, Inc.
Monday, March 13, 2006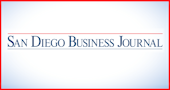 Finding a harmonious balance between creative passion and rigid business necessities is all in a day's work for Thomas Leach, owner of Blue the Salon, Inc.
The La Jolla-based small business is in the Bird Rock community, which has been undergoing redevelopment in recent years. As the community has grown, so too has Leach's salon, which saw a roughly 60 percent increase in annual revenues last year.
"I have always been fascinated with women's hair and its beauty," said Leach, who has owned his shop since 1999. "I could never visualize myself seated behind a desk all day. Ironically, as my business is steadily growing, I find myself there every day for at least a few hours."
While Leach's passion for hairstyling is evident by the amount of time he spends studying techniques from around the world, he's also determined to be a better businessman by developing his own patented hair tools and pursuing multiple locations for his business.
"I've made a decision to not limit myself to the hair business," Leach said.
Helping him achieve his goals is his wife, Elaine, whom Leach says is the most important part of his business, since she makes sure the taxes and bills get paid.
"We're a great team and teamwork often is the reason why a business works," Leach said.
VITALS
Name: Thomas Leach.
Title: President.
Company: Blue the Salon, Inc.
Company address: 5707 La Jolla Blvd., La Jolla.
Company phone: (858) 456-6474.
Year founded: 1999.
Prior business experience: Worked as hairstylist for more than 10 years in other salons.
Average hours worked weekly: 50.
Source of startup capital: Personal savings.
2005 revenue: $434,337.
2004 revenue: $263,159.
Number of employees: 8.
Web site: www.bluethesalon.com.
BACKGROUND
Birthplace: Detroit.
Education: High school and Vidal Sassoon Styling School graduate.
Age: 34.
Current residence: San Diego.
Family: Wife, Elaine.
Hobbies: Photography, motorcycling, music and golf.
JUDGMENT CALLS
Reason for getting into business: Independence and control over my own destiny.
How I plan to grow the business: Quality control. It's easy to lose control if you grow too quickly, so I try to manage growth at a pace that's comfortable for my staff and myself. I set aside a minimum of three hours a week for researching products and techniques from across the globe.
Biggest plus of business ownership: Having my future in my hands and under my direct control.
Biggest drawback: Same as above. Anyone who owns his or her own business knows what this means. Having that control can be a double-edged sword, where you either slay the dragon or tragically fall on it.
Biggest business strength: The skill, character and integrity of my employees.
Biggest business weakness: Not owning the building where my salon is located.
Biggest risk: Reinvesting a large portion of sales revenue back into the business. In theory, it is what a business is supposed to do, but I struggle with knowing how much is enough.
Smartest business decision: Establishing extremely rigorous requirements to become a member of my staff and making ongoing training a priority.
Biggest business mistake: Not borrowing money or taking out loans in order to be more sufficiently capitalized so that the business can better withstand up and down cycles. It sounds strange, but it's true.
Toughest career decision: Moving away from my hometown and stepping beyond my own sense of security in order to obtain more in-depth training and experience so that I could pursue my lifelong dream.
Biggest ongoing challenge: Ensuring complete client satisfaction with every styling experience and maintaining a productive, enjoyable workplace environment.
My business works best when: I neglect nothing.
Best way to stay competitive: Constantly monitor what is taking place in the industry, absorb it, and implement ideas and practices that fit well with the business model.
How I measure success: Mine and my wife's happiness and contentment with where we are in our lives as opposed to a growing bank account, although that's not all bad either.
GOALS
Goals yet to be achieved: To open another salon in Brazil. Also, I have developed a few new tools that are not yet on the market but are currently in the process of being patented. I'd also like to travel around and meet some of the top stylists around the world so I can learn how they achieved their success.
My five-year business plan: I'm a firm believer in the adage "If it ain't broke, don't fix it," so I'll continue doing what I'm doing, grow at a steady, manageable pace, continue to focus on quality and client satisfaction, and hope that my individual formula for success is the right one.
I would sell my business only if: I was severely injured and was unable to perform at a level that I felt was adequate. The only other reason would be if I no longer derived the same amount of happiness or satisfaction from my everyday work.
Guiding principles I will continue to follow: Working hard has been a constant in my life and has enabled me to reach the place where I am today. Having the ability to visualize where you're going also has played an important part in my success. The further you can see, the clearer your direction. Also, work smartly and if possible, diversify.