Advertising , To Go
Monday, March 13, 2006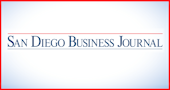 Picture this: It's lunchtime. You pull into a busy strip mall with a bevy of cuisine options. Suddenly a coupon for one of the nearby eateries pops up as an incoming message on your cell phone, enticing you to choose them above the competition, knowing full well you're within walking distance of their door.
Sound like another wacky, futuristic pipe dream on par with flying automobiles and robotic housekeepers named Rosie? Think again.
Mobile marketing, or text messaging advertisements to cell phones, is rapidly gaining acceptance as the next big advertising medium and garnering serious attention from San Diego professionals.
"(Cell phones) really are the only devices that we can take with us everywhere, and we do," said Dan Flanegan, the chief executive officer of Soapbox Mobile, Inc., a full service mobile marketing agency based in Carlsbad. "I think what we're seeing this year are that there are real budgets being created for mobile marketing as part of larger interactive marketing campaigns and that says a lot because until now, it's been mainly experimental."
Shlomi Ron, the president of San Diego's High-Tech Marketing Alliance, ponders whether one day the amount of cell phone marketing attached to any one interactive campaign could actually surpass the size of the campaign's Internet marketing component.
The number of cell phone users is "way above and beyond computer usage, so in essence what you're seeing is there's way, way more people connected to a cell phone than the Internet," said Ron, who recently served as senior relationship marketing manager for Gateway computers.
Flanegan, who launched Soapbox Mobile two years ago and whose clients include the House of Blues, Guinness beer and other local advertising agencies, said he believes that the sudden buzz surrounding mobile marketing campaigns has a direct correlation to the maturation of the cell phone market itself, from the accessibility and technology aspects.
Undeniable Marketplace
According to the Mobile Marketing Association, a global organization based in Colorado, at 1.4 billion, there are now more mobile phone subscribers in the world than there are land-line phone subscribers. And the Cellular Telecommunications and Internet Association, an international group based in Washington, D.C., reports that in the United States alone, there are nearly 200 million cell phone subscribers, which accounts for more than 65 percent of the U.S. population.
The association also reports that text messaging usage is up. In a study of the number of text messages sent, the association finds that 32.5 billion messages were sent from January to June 2005 compared with 24.7 billion for the same time in 2004 , a 32 percent increase. A comparison of June 2005 with June 2004 shows an even greater growth rate of 7.3 billion compared with 2.9 billion. Mobile marketing supporters are billing the 154 percent increase in the most recent month studied as proof of the medium's growth potential this year.
"It is good and bad in some ways, but it will be a trend growing more and more each day, like it or not," said Ursula Sattler-Cohen, the president and creative director of Euro Style Advertising, Inc. a San Diego-based agency for the past 20 years.
Because mobile marketing is so new, estimates on what the industry generates in annual revenues were not available.
How'd We Get Here?
Like many things, the concept of mobile marketing was not born overnight, according to Nihal Mehta, the chief executive officer of ipsh!, a San Francisco-based company that has implemented more than 400 mobile marketing campaigns in the United States since its inception in June 2001.
Mehta said that although the buzz surrounding mobile marketing is loudest this year, certain key developments have occurred in the past five years, making the practice possible.
One of the biggest developments, according to Mehta, was at the end of 2001 when it became possible to send text messages mobile to mobile, regardless of what carrier each phone subscriber was connected to. Another major development came in 2003 with the debut of common short codes, or "mobile URLs," as Mehta calls them.
Common short codes are five digits in length and can be leased by companies, which in turn share the numbers with consumers. The consumers then use the codes to communicate with the companies, creating an instant one-on-one relationship that can be used to promote new products, send coupons and, in the most sophisticated of systems, possibly sense signals from a particular phone when it is near a specific place of business.
"After all this happened, the pieces were in place for the U.S. to really have a viable marketplace for mobile marketing," Mehta said. "I call (2006) the starting point of mobile marketing because now all the things that needed to happen have happened."
Common short codes cost anywhere from $500 to $1,000 a month to lease, depending on whether companies want random codes assigned to them or a specific code chosen by the lessee. Companies lease the codes from the Common Short Code Administration, an arm of the Cellular Telecommunications and Internet Association.
While the cost to lease a code is relatively low, it is only a fraction of an entire mobile marketing campaign's cost. Mehta estimates that the cost of such a campaign can run from $5,000 for a matter of weeks to $250,000 for one- to two-year contractsThe most common way companies using mobile marketing advertise their common short codes is by embedding them into other traditional broadcast and print ads.
Hold The Spam Please
Unlike e-mail, mobile marketing has been strongly regulated from the beginning. Because carriers charge text messaging fees to the consumer, the Mobile Marketing Association established industry standards stating that advertisers can send messages only to cell phones belonging to people who initiated contact with them via a common short code exchange. Once the relationship is established, at anytime, consumers have the right to stop the messages.
"One of the best things about cell phones and mobile marketing is, unlike the Internet, if you get a lot of spam, the carriers won't allow it to continue very long," said Ron, of the High-Tech Marketing Alliance. "The opt-in mechanisms are kept very strongly."
Consumers aren't the only ones who need to be convinced; advertisers also sometimes need persuading, said Andreas Roell, vice president of the San Diego Ad Club and president of Geary Interactive, a full service interactive agency offering e-marketing, design and programming services.
"You got the type of client that is always interested in learning something new and willing to be cutting edge and so it's easier to convince them, but other clients do take a little more time to come around the idea," Roell said.
The types of consumers that mobile marketers hope will opt in to their campaigns include everyone from teens to baby boomers. Mehta, of ipsh!, said that although more teens regularly send text messages than any other age group, moms and older professionals are catching up.
Sattler-Cohen, of Euro Style Advertising, also sees potential for mobile marketing to be used for all types of consumers, especially baby boomers.
"(Newer technologies) didn't pass them completely," Sattler-Cohen said. "I'm one of them and I use it. We had to jump in like it or not to stay in business."
Financially, Mehta said that mobile marketing has paid off well for many of his clients.
"We're seeing a lot of people getting into mobile marketing just for the 'wow' of it because it's new and exciting and something different, but we're also seeing more and more repeat customers coming back because they're seeing real results from it," Mehta said.
Specific examples of instances when mobile marketing led to profits include a recent campaign by McDonald's that resulted in a 3 percent increase in Big Mac sales nationwide, according to Advertising Age, a trade publication based in New York.
The campaign consisted of consumers being encouraged to buy Big Macs so that they could receive codes on the hamburger container that could then be used to enter a contest for concert tickets.
A 'Key' Debate
"Mobile is not just another channel; it's an augmentation to other channels," said Mehta. "If you layer mobile into every channel, you're going to have a way to really see what's working for you."
For Geary Interactive's Roell, highly targeted advertising relative to consumers is key, perhaps more so than other mediums.
"It has to be relative to the consumer you're reaching," Roell said. "If it's something they want or need, people will be accepting of the message, but if it's not within the target, you get to deal with an irritation factor that can hurt your business in the long run."
Flanegan, of Soapbox Mobile, agrees.
"The biggest issue in the U.S. is that people get charged for receiving text messages, so not abusing it is key," said Flanegan, who also notes that constant refreshing based on research and development is crucial to any mobile marketing campaign.
To his clients, Flanegan offers use of a hosted Web application created by Soapbox Mobile to chart consumer feedback and participation throughout the life of a mobile marketing campaign.
"For the longest time I think in the e-mail space a lot of people just take for granted that their message would be seen no matter what," Flanegan said. "You can't do that with this."
Although mobile marketing has been a tool for larger companies with large advertising budgets, Flanegan doesn't believe smaller companies will be shut out by this new technology.
"As bigger brands create the standard by getting the word out that there is a reliable, measurable tool, I think you can expect to see both mid- and smaller-sized businesses take this approach," Flanegan said, estimating that it will be at least two more years before it really takes off in smaller markets.