Hospital Receives Gift, New Name
Thursday, June 29, 2006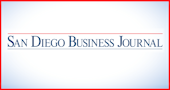 Children's Hospital has received $60 million from Ernest Rady and is renaming the hospital after him.
The 52-year-old institution's board of trustees voted to rename the hospital Rady Children's Hospital and Health Center, the hospital announced June 29.
Donations will be used for an expansion including a new acute care pavilion to encompass a surgical center, neonatal intensive care center, conference center and 84 beds.
The donation casts a positive light on the hospital following a dark cloud that hung over the San Diego facility in recent months after two of its employees were found to have sexually molested seriously ill children. Spokesman Tom Hanscom said the publicity the hospital received about the molestations did not play a role in renaming the hospital.
Rady's gift is the largest donation ever made to Children's, and according to the hospital, it is also the second largest naming gift given to any children's hospital in the United States.
Rady, 69, was the wealthiest man in San Diego, according to research conducted by the San Diego Business Journal late last year. Rady owns 54 percent of Wachovia Corp., to which he sold his then-most lucrative holdings, a bank, Westcorp, Inc., last year for $3.42 billion. He has periodically served on the board of directors of the hospital, overseen projects and made other donations there.
, Katie Weeks