Week in Review
Monday, June 26, 2006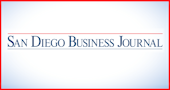 Quote of the Week
'It seems to us that the U.S. market is undergoing tremendous change, which presents opportunities for us.'
, Simon Uwins, chief marketing officer for Cheshunt, England-based retailer Tesco. Click here for the story.
Friday, June 16
Jobless Figures Stay Slim: San Diego County's unemployment rate remained at 3.7 percent in May, the same rate as April, according to the state's Employment Development Department.
The local rate, among the lowest in the state, was below that of California's 4.6 percent unemployment, and the national rate of 4.4 percent. It also beat the region's rate of 4.1 percent for May 2005.
In the past month, the number of non-farm jobs in the region increased by 5,300, with the largest net gains coming from construction, with 1,800 jobs, and leisure and hospitality generating 1,300 jobs. The total non-farm employment for the region rose 1.4 percent for the year to 1,302,500.
The next largest job-creating sector was trade, transportation and utilities, which grew by 1,000, with 60 percent of that number coming from retail trade.
For the past 12 months, the region has gained a net of 17,500 jobs, an increase of 1.4 percent, according to the state agency. The biggest job-creating sectors have been leisure and hospitality, up 5,100 jobs; construction, up 4,300 jobs; and educational and health services, up 2,800 jobs.
, Mike Allen
Monday, June 19
Ballot Bid Fails: Tri-City Medical Center's top officer acknowledged that the hospital's $596 million ballot measure is not going to garner the votes needed to pass.
Hospital officials will not have enough time and money to resubmit the bond measure and run a second campaign for the November ballot, said Arthur Gonzalez, the chief executive officer of the 400-bed Oceanside hospital.
The measure had 65.91 percent of voters' support in the June 6 election, and it needed 66.7 percent to pass.
, Katie Weeks
Tuesday, June 20
New Verari Exec: David Wright is replacing Dave Driggers as chief executive officer of San Diego-based Verari Systems, Inc. Driggers will remain as chairman of the board and chief technology officer. The firm develops blade servers that provide high-performance computer processing power.
, Julie Gallant
- - -
Cricket Jumps To Cincinnati: Leap Wireless International Inc. said it began offering its flat-rate Cricket wireless service in Cincinnati.
The San Diego company is providing the service through its partnership with Alaska Native Broadband 1, which was the winning bidder on a group of licenses for Cincinnati, Lexington and Louisville, Ky., Colorado Springs, Colo., Austin, San Antonio, El Paso and Bryan, Texas, and Las Cruces, N.M.
ANB1 is a joint venture between Cricket Communications, a subsidiary of Leap Wireless, and Alaska Native Broadband, LLC.
The addition of service to Cincinnati, with some 1.8 million potential new customers, would give Cricket customers access to a calling area that includes that city, Dayton and Columbus within their regular service plan.
, Mike Allen
Wednesday, June 21
ViaSat Buys Enerdyne: Carlsbad-based satellite and wireless tech firm ViaSat Inc. acquired El Cajon-based Enerdyne Technologies Inc. in a $26 million deal.
The transaction involved $16.4 million in ViaSat common stock and $600,000 in cash, with additional consideration of $8.7 million to be paid based on Enerdyne meeting certain targets.
The acquisition combines ViaSat's technology used in government and commercial markets with Enerdyne's video data link and digital video systems used in the defense and intelligence industries. Enerdyne's video products are used primarily in unmanned aerial vehicles.
ViaSat plans to expand its products for the Department of Defense, which is investing more in video transmission technology for its ground vehicles, airborne platforms and equipment used by soldiers.
, Julie Gallant
Thursday, June 22
A High-Power Transfer: Sempra Energy, San Diego's largest publicly traded company, announced it had hired Jessie J. Knight Jr. away from the San Diego Regional Chamber of Commerce. Knight, 55, is the chamber's president and chief executive.
Knight will join Sempra on Aug. 1, filling the energy company's newly created position of executive vice president of external affairs.
He has been president and chief executive of the chamber since 1999. The chamber announced that it is assembling a search committee to hire a new chief.
Knight's experience includes work as a California public utilities commissioner.
Sempra reported 2005 revenue of $11.7 billion.
, Brad Graves