San Diego People
Monday, June 26, 2006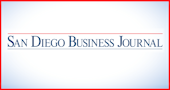 Executive Spotlight: Trindl Reeves
Trindl Reeves has joined Barney & Barney LLC as a principal. Reeves will be responsible for the ongoing growth of Barney & Barney in San Diego and Orange County. "Trindl has a significant background in risk management and health and welfare consulting to global exchange traded companies, which will be a tremendous asset to Barney & Barney as we continue to grow," said Paul Hering, the chief executive officer of Barney & Barney. Reeves has 20 years' experience in the insurance industry and most recently was managing director of Marsh Risk & Insurance Services, Inc. Reeves is a board member with a number of organizations, including the San Diego County YMCA, Connect, the San Diego Regional Economic Development Corp., the San Diego Venture Group and Biocom.
Banking and Finance
Julie Godfrey of Capitol Wealth Advisors has been charged with overseeing wealth management offerings for Sunrise Bank of San Diego. She has extensive experience in wealth management and is an investment adviser representative and general securities registered representative. Dee House has joined U.S. Bank's private client group as a vice president. She has in-depth experience with high-net-worth individuals in Southern California and is well versed in complex financial planning, training credits and investments. Most recently, House was director of private client services for Silicon Valley Bank. College Loan Corp. has appointed Melanie Loncorich-Thell to manager of school relations and Jean Flores Dennis to vice president of school relations. Loncorich-Thell has served in various capacities in the student loan industry and most recently was vice president of business development for Education Assistance Corp. Dennis has more than 18 years' experience in the financial aid industry and will be responsible for developing business at key schools.
Construction and Design
Anthony Garcia has joined Austin Veum Robbins Partners as project designer for one of the firm's internal specialized structures. He will be responsible for coordinating and developing numerous projects. Garcia has nine years' experience in the architecture and interior design industry and most recently was project designer for Graham Downes Architecture. Swinerton Builders has added Mara Crowell as business development manager. She will be working with the company's special projects group. Crowell has 17 years of construction industry experience and has worked for Pacific Building Group and Sundt Construction, Inc. Editha Benoit has joined Smith Consulting as a job captain. She will assist project architects with the design and administration of the firm's office, industrial and retail projects. Most recently, Benoit was a job captain with Kenneth Smith Architect and Associates.
Health Care and Biotech
GenWay Biotech, Inc. has named Sergey Sikora as senior director of business development. Sikora has two years of management experience and 10 years of biomedical research experience. His expertise is in business development and bio-informatics and most recently was founder and vice president of business development in MC-Fibers. Optimer Pharmaceuticals, Inc. has appointed John Prunty as chief financial officer and vice president of finance. Prunty has more than 20 years of senior management experience in finance, accounting, public offerings, mergers and acquisitions and Securities and Exchange Commission accounting reporting. Most recently, Prunty served as chief financial officer, vice president of finance and corporate secretary at Maxim Pharmaceuticals, Inc.
High-Tech and Manufacturing
The Window Factory has hired John Beaver as plant manager. He will be responsible for managing the company's manufacturing operations, the management of engineering new products as well as general operations. Boyle Engineering Corp. has hired Jeff Marchioro as a senior engineer in the firm's San Diego office. With more than 15 years of civil engineering experience, he will enhance Boyle's capabilities in water and wastewater treatment as well as related specialties. Most recently, he was a project manager for Burkett & Wong.
Law
Kevin Alexander has been named a managing partner for Gordon & Rees LLP. He succeeds Gerhardt Zacher. Alexander's practice focuses on complex commercial, securities and products liability litigation. Sherri Morris has joined Higgs, Fletcher & Mack, LLP as a partner in the tax practice group. She will focus on tax controversy matters and business real estate and tax planning. Most recently, Morris was of counsel for Dysart & Dubick, LLP.
Education
Linda Kato has been appointed to director of the Center of Applied Nonprofit Research at the University of San Diego's School of Leadership & Education Sciences. Kato has taught social policy analysis at the Boston College School of Social Work, and has worked for many years in secondary education.
Government and Nonprofit
Connect has appointed June Chocheles as chief operating officer. Chocheles will succeed Tyler Orion, who will retire in August. Most recently, she served as vice president for science and technology strategy in the corporate engineering and technology office at Science Applications International Corp. "She has had an impressive career with SAIC over the past 20 years and brings a great deal of experience and enthusiasm to Connect," Duane Roth, the chief executive officer of Connect.
Miscellaneous
The San Diego International Auto Show has named Kevin Leap auto show director. He has more than 20 years of publishing and marketing experience and most recently was president of Modern Luxury magazines. He also has experience in event management. Fitness Together has promoted Jason Thompson to manager and partner and Allan Nepomuceno to manager. They will oversee the day-to-day operations. Three Blind Mice Window Coverings, Inc. has hired Kelsey Gibson as operations manager. She will oversee all aspects of daily operational procedures. Most recently, Gibson was operations manager for six years at Whalen Marketing and Sales.
Real Estate
Kirk Cypel will assume Equastone's newly created position as general counsel. He will be responsible for all of the firm's legal functions. Cypel has more than 15 years of legal, real estate and finance experience.
, Compiled by Stacey Bengtson