Allard Appointed To Bench
Thursday, June 22, 2006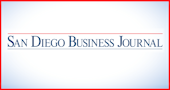 Edward P. Allard III has been appointed by Gov. Arnold Schwarzenegger to the San Diego Superior Court.
Allard, 52, of San Diego, has served as an assistant U.S. attorney in the U.S. attorney's office of San Diego since 1988, and previously served as an attorney for the U.S. Department of the Treasury.
He was in private practice with the law firm of McClellan & Allard from 1987 to 1988, and served as assistant U.S. attorney from 1984 to 1987. Allard's experience also includes a stint as a lieutenant in the Judge Advocate General's Corps for the U.S. Navy from 1980 to 1983.
A graduate of Boston College, he earned his law degree from Western New England College of Law.
Allard, a Republican, fills the vacancy created by the retirement of Judge Wesley R. Mason. The job pays $149,160.
, Pat Broderick