ViaSat Buys Enerdyne
Wednesday, June 21, 2006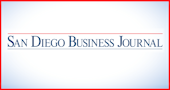 Carlsbad-based satellite and wireless tech firm ViaSat Inc. acquired El Cajon-based Enerdyne Technologies Inc. in a $26 million deal.
The transaction announced June 21 involved $16.4 million in ViaSat common stock and $600,000 in cash with additional consideration of $8.7 million to be paid based on Enerdyne meeting certain targets.
The acquisition combines ViaSat's technology used in government and commercial markets with Enerdyne's video data link and digital video systems used in the defense and intelligence industries. Enerdyne's video products are used primarily in unmanned aerial vehicles.
ViaSat plans to expand its products for the Department of Defense, which is investing more in video transmission technology for its ground vehicles, airborne platforms and equipment used by soldiers.
In April, ViaSat won a $3.5 million contract from the Space and Naval Warfare Systems Command San Diego to develop communications systems for a Joint Tactical Radio System. Data link solutions are one element of developing this Internet-based system that helps the military locate moving and time-critical targets.
"We've worked hard to develop the kind of video data links that our armed forces need, and with ViaSat as our corporate parent, we feel confident that we now have the market presence and backing required to satisfy the demand for this equipment," said Enerdyne Chief Executive Officer Brandon Nixon.
, Julie Gallant