New Leadership at Verari
Tuesday, June 20, 2006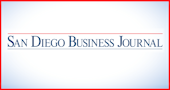 David Wright is replacing Dave Driggers as chief executive officer of San Diego-based Verari Systems, Inc.
The appointment by the firm's board of directors was announced June 20. Driggers, the founder of Verari Systems, has chosen to become more involved in technology development and will remain as chairman of the board and chief technology officer of Verari Systems.
The firm develops blade servers that provide high-performance computer processing power.
In his new role, Wright, 57, will lead global expansion efforts. Most recently, he served as executive vice president in charge of strategic alliances and global accounts at Hopkinton, Mass.-based EMC Corp., which provides information storage devices and services.
"David has demonstrated throughout his career that he is an ideal leader who can help Verari Systems fully achieve the company's extraordinary potential," said Curtis Feeny, partner at Voyager Capital and member of Verari Systems' board of directors.
, Julie Gallant