Small Business Spotlight: Blue Mine Group
Monday, June 12, 2006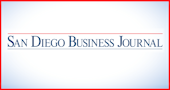 Now working on his third company, it's clear that entrepreneur Michael Lurie has a passion for start-ups and a knack for small business ownership.
The 45-year-old owner, founder and CEO of Blue Mine Group helps other companies bring new technologies to market. The companies are like one that Lurie used to own, which marketed customer relations management software.
"Blue Mine is my third company so I guess I have 'the bug' for some time," Lurie said. "Certainly, the No. 1 thing for me is the freedom you have to chart your own course."
"There's also a lot of satisfaction in terms of the development of people and their careers," he added.
Blue Mine, launched only four years ago, has experienced its own development spurt recently with Lurie at the helm. The company reported revenues of $1 million in 2005, nearly double the year before; and it appears that things are only getting started.
"I think it's a very exciting environment here," Lurie said. "San Diego, I think, probably, has a lot of untapped potential still in terms of new technologies."
VITALS
Name: Michael Lurie.
Title: Founder and CEO.
Company: Blue Mine Group.
Company address: 12777 High Bluff Drive, Suite 215, San Diego 92130.
Company phone: (858) 792-2633.
Year founded: 2002.
Prior business experience: Founder/CEO of two technology/software companies; strategy consultant with McKinsey & Company, Inc.
Average hours worked weekly: 70.
Source of startup capital: Personal savings.
2005 revenue: $1 million.
2004 revenue: $600,000.
Number of employees: 10.
Web site: www.blueminegroup.com.
BACKGROUND
Birthplace: Harare, Zimbabwe.
Education: Bachelor of Commerce, MBA, University of the Witwatersrand, Johannesburg, South Africa.
Age: 45.
Current residence: Carmel Valley.
Family: Wife, Vanessa; sons, Rafi, 13, Josh, 10, and Daniel, 7.
Hobbies: Reading, travel, outdoor activities.
JUDGMENT CALLS
Reason for getting into business: To chart my own destiny, bring something new and valuable to the world and build financial security for my family.
How I plan to grow the business: By deepening our expertise in selected high potential product markets and by delivering exceptional value to all our stakeholders.
Biggest plus of business ownership: Freedom.
Biggest drawback: Lack of time and resources in a startup.
Biggest business strength: Strategy, integrity, relationships.
Biggest business weakness: Lack of front-line experience in my early career.
Biggest risk: Startup phase of each of my companies.
Smartest business decision: Focusing on the go-to-market challenges of early stage technology companies.
Biggest business mistake: Making decisions for personal, not business reasons.
Toughest career decision: Leaving McKinsey to become an entrepreneur.
Biggest ongoing challenge: Getting to critical mass.
The most important part of my business: Our ability to get initial market traction for emerging technologies far more quickly and with significantly less investment and risk than typical early-stage companies.
My business works best when: We're focused, productive and caring.
Best way to stay competitive: Continual innovation and relationship development.
How I measure success: The extent to which we meet core stakeholder needs.
GOALS
Goals yet to be achieved: To build a global company.
My five-year business plan: Build an optimized portfolio of product markets through deep market knowledge, core competences in strategy, sales and marketing, technology partnerships and business model innovation.
I would sell my business only if: The offer met or exceeded our internal valuation.
Guiding principles I will continue to follow: Understand and meet the needs of our customers, partners, employees and investors every day.