New Program Connects Firms With PR Executives
Monday, June 12, 2006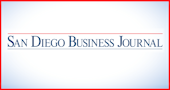 Companies interested in getting exposure before the region's biggest marketing and PR officials may want to call the San Diego chapter of the Public Relations Society of America.
A program, launched June 6, targets interested companies paying $300 to $7,000 in exchange for editorial recognition in the group's newsletter, prominent logo placement on the group's Web site and invitations to social and education events.
Funds generated will help support education and outreach programs run by the group, which has 250 members.
"We have received positive feedback from sponsorship stakeholders who have benefited from their ability to tap into the buying power of influential business leaders," said Audrey Benedetto, the president-elect of the San Diego chapter. "The PRSA sponsorship program is an opportunity for local service providers to showcase their company to public relations practitioners."
Benedetto said participants who could benefit from increased visibility would include advertising agencies, caterers and graphic design firms. To learn more, call Benedetto at (619) 236-8397 or visit www.prsasandiego.org.
- - -
Silver Pen: Congratulations are in order for the San Diego Business Journal 's Rick Bell.
Bell, who served as managing editor of the Journal for the past eight years, wrote the second best business editorial in the nation last year, according to the Alliance of Area Business Publications.
The Los Angeles-based trade group, which represents 70 regional and local business publications throughout Australia, Canada, Mexico and Puerto Rico and the United States, honored Bell on May 3 with a silver plaque for his editorial "The Truth Takes a Hit." It is the first national award to be received by a Journal staff member.
The editorial, which ran in March 2005, was critical of city officials who rejected Diann Shipione's bid for reappointment to the San Diego City Employees' Retirement System board. Shipione blew the whistle on the city's billion-dollar pension fund scandal and had asked to remain with the board.
Bell joined the Journal in 1998 and resigned his post as managing editor May 26 to work for Workforce Management , a semimonthly magazine based in Orange County. His replacement has not yet been named.
- - -
More Club News: The San Diego Press Club will host a news forum at 6 p.m. Wednesday, June 14 at Point Loma Nazarene University's Clara Colt Hall. The focus will be on examining the high-tech skills necessary to work in media today.
Reo Carr, the associate publisher of the San Diego Business Journal, will moderate for a panel featuring representatives from SignOnSanDiego.com. Cost is $12 for general admission, $10 for club members and $5 for students. To learn more or to register, call (619) 231-4340 or visit www.sdpressclub.com.
While journalists learn this month to cope with growing high-tech demands, the San Diego chapter of the Public Relations Society of America will host a luncheon Wednesday, June 21 titled, "The Experts View Crisis Communications."
The roughly two-hour event, which will start at 11:30 a.m. at the Mission Valley Hilton, will feature panelists discussing how to best prepare crisis response plans for both nonprofit and for-profit organizations. Highlights will include how to advise management in a crisis, how to communicate with the press and how to assure public trust.
Panelists will be Bobbie Christensen of the San Diego Housing Commission, Dick Daniels of Escondido-based RMD Communications and Maurice Luque of the San Diego Fire-Rescue Department.
Cost varies with PRSA membership status. To learn more or to register, visit www.prsasandiego.org.
- - -
Turning 2: Happy anniversary to WealthTV. The San Diego-based luxury lifestyle and entertainment channel turned 2 years old this month, announced WealthTV President Charles Herring on June 2.
Since launching in 2004, WealthTV has landed more than 75 distribution agreements with providers throughout the country and abroad.
Programming on WealthTV, which has yet to air in San Diego, runs 24-hours-a-day, seven-days-a-week and includes original shows about everything from fast cars to smarter investing habits.
- - -
New Accounts: La Jolla-based public relations consultant Marisa Vallbona announced three new high-profile clients this month.
The first new client is Cold Stone Creamery, which Vallbona will represent throughout Southern California. The second is Relax the Back, a retail specialty store that Vallbona will represent throughout the western United States. And finally, Vallbona will work on behalf of Glaceau, the maker of vitaminwater, fruitwater and smartwater.
Vallbona credits her connections with PRConsultants Group, Inc., a network of public relations firms, for the new clientele.
Meanwhile, Bankers Hill-based Bailey Gardiner, Inc., an integrated marketing agency, welcomes aboard four new clients this month. Seaport Village, Del Mar Plaza, Alvarado Hospital Medical Center and Ripping Revolution, a new startup in San Marcos, all hired BGI to create and implement promotions, public relations and advertising programs, the agency announced June 5.
The agency is especially pleased to welcome such a high profile hospitality and tourism name as Seaport Village, according to Jon Bailey, the agency's chief executive officer. Staff from BGI will work on behalf of the four million-visitor-a-year destination alongside Seaport Village's in-house personnel.
Send media and marketing news to Jessica Long at jlong@sdbj.com . She can also be reached at (858) 277-6359, Ext. 3114.