Designer Learns Marketing Lessons By Trial and Error
Monday, June 12, 2006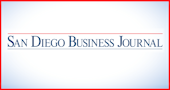 For a lot of people, Europe evokes an image of style, sophistication and worldliness. But the Zurich-born graphic designer, Ursula Sattler-Cohen, didn't fully realize this mindset until she started producing designs for a client more than two decades ago.
"Two ladies in Encinitas decided they wanted to decorate baby bottles," she recalled, noting that, back then, there were no fancy baby bottles on the market, only the utilitarian ones you bought at the drug store.
"They found me, but had no idea how to start a company," said Sattler-Cohen, then a freelance art director for Covi Corp. in San Diego. "I branded the company, and gave them designs. They said that they were so trendy, they didn't know if Americans would go for that. I had pink elephants dancing, rather than rosebuds."
But those trendy bottles attracted a lot of attention for the Encinitas duo, Linda Geitner and Jenny Richards, as did their company, Cherubs. A few years later, Playtex purchased Cherubs, and Sattler-Cohen was retained to continue designing for Playtex.
Before she came to the United States, Sattler-Cohen honed her skills, working her way up through the ranks of such companies as the prestigious ad firm of Young & Rubicam in Zurich. But in 1986, when she launched her own design, illustration and marketing business, she was still puzzling over what to name it.
"I thought, 'What am I going to call this?'" she recalled. "I'm opening tomorrow. People say my designs are so European."
Hence the name Euro Style Advertising & Design.
"Today, you see more globalization," Sattler-Cohen observed, "with fashion trends starting simultaneously, with chains of stores around the world. But Europe still has a tendency to be more fashion forward.
"They are a little more bolder, and take a little more risk when it comes to fashion items," she said.
Lessons Learned
The company, whose chief executive officer is husband Sheldon Cohen, today counts among its clients Platex, Encinitas-based Rokenbok Toys, the Sweet Factory, Hasbro/Playskool and Equastone, a San Diego-based real estate investment firm.
"Playtex is probably the most wonderful client," Sattler-Cohen said. "The people working there are incredibly wonderful, and very educated, a real marketing machine. They have fewer products, but market the heck out of them."
Sattler-Cohen, 46, has learned much in two decades, and has one major regret , not owning the rights to her early designs for Cherubs.
"I wish I had known," she said. "I came from such a small market, I didn't know how big this market was. I came here with a bag of clothes and nothing else. I needed to pay my rent, so I worked for pay. If I had taken a percentage of the company, rather than a little fee for each design I did, I wouldn't have had to work now. I didn't understand marketing on a big scale."
Markets To Conquer
Not that Sattler-Cohen has any desire to quit.
"We've made so many people rich with our designs," she said. "It's time to do something for ourselves. I'd like to create my own product."
She's already working on producing some children's storybooks, as both the writer and illustrator, and has penned some nonfiction ones as well.
"Raising kids, so many stories come to mind," said the mother of two. "I've done three science books for early learning, with an interactive CD."
While she has a publisher, "It's been slow moving," Sattler-Cohen said. But she is confident that everything will fall into place.
"I've always had my hand in other pots," she said. "The last few years, I've worked with venture capitalists in Dallas, and branded many of their companies."
In Dallas, she worked with a variety of businesses, including energy, high-tech, telecommunications and real estate.
"It's fun to jump into different markets and put a visual touch to them," Sattler-Cohen said.
For Equastone, Sattler-Cohen said, "We just did an entire re-do , new logo, all the visuals, letter heads, collaterals, the Web site."
The Cobbler's Children
But Sattler-Cohen sometimes wishes that she applied her own marketing savvy to her own company, joking about the cobbler's children always going barefoot.
"I have to admit, what I've done for other companies, I should do more for myself," she said. "I'm always dealing with fairly large clients. I was lucky, I had word of mouth. We did a very good job in what we took on."
But Sattler-Cohen prefers to stay small, and avoid the mass auditions that mark her industry.
"Occasionally, I went in for competitive presentations," she said. "If you are small, it's a waste of energy, and didn't bring very loyal clients in. Those who I got through word of mouth, made good long-term clients. I always run my agency like a European agency, with relationships that last a little longer."
Now having marked the company's 20th anniversary, Sattler-Cohen looks fondly back to all of the different clients she has worked with.
"So many American-dream stories," she mused, "and so many great entrepreneurs out here."
- - -
Name: Ursula Sattler-Cohen.
Title: President/Creative Director.
Company: Euro Style Advertising and Design.
Revenues: $1.1 million.
Employees: 6.
Age: 46.
Residence: Bird Rock.