Construction Journal
Monday, June 12, 2006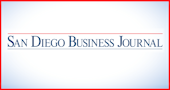 Johnson & Jennnings General Contracting has started tenant improvements for the 34,316-square-foot offices of Foley & Lardner LLP, in the Emerald Plaza building in downtown San Diego.
Cost: $2.5 million.
Project Manager: Jim Lohnes.
Onsite Superintendent: Steve Erickson.
Project Engineer: Ian Becker.
Construction Manager: Maggie Mandel.
Architect: DMJM Rottet.
Subcontractors: Bergelectric, Control Air, KMP Plumbing, Wageman Co., Towne Construction, McBride Door & Hardware and Spooner's Millwork.
- - -
McCarthy Building Co., Inc., recently completed construction on the $17 million expansion and renovation of the Biomedical Library at UC San Diego, on its La Jolla campus.
Cost: Unavailable.
Project Manager: Robert Betz.
Director of Construction Services: Jim Gillie.
- - -
Sully-Jones Roofing Co. has completed re-roofing of the Burger King commercial building at 225 Jamacha Road in El Cajon.
Cost: $15,000.
Commercial Project Manager: Ben Scales.
- - -
Good & Roberts, Inc., has completed construction of a 292,000-square-foot facility for Gen-Probe Inc. that will serve as additional headquarters and a manufacturing facility for the company in San Diego.
Cost: Unavailable.
Design Team: Peter Bussett and Ned Haskell of Smith Consulting Architects; Raleigh Wong of ILA + Zammit Engineering Group, electrical engineer; and Chris Deck and Paul Hausbeck of DEC Engineers, mechanical engineers.
Gen-Probe Representative: Michael Fredericksen.
Project Executive: Chuck Glynn.
Design & Budgeting Manager: Jerry Carlson.
Project Manager: Mike Hendrick.
Superintendents: Terry Petersen, Bob Whitney, Pat Piro and Jim Whaley.
Project Coordinator: Kim Wolff.
Subcontractors: Ledcor Petty, Minegar Concrete Construction, Ickler Electric, Hazard Construction and West Coast Air Conditioning, Inc.
Send news of contract awards and construction commencement and completion for the Construction Journal to pbroderick@sdbj.com . Please include the address, contractor, architect, square footage and cost.