Coffee Brewer Inspired By Relative in Peru
Monday, June 12, 2006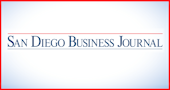 Karen Cebreros didn't know beans about coffee when she attended her first trade conference in 1990, and almost blew up her booth.
"I didn't know how to make coffee , there were bubbles all over the place, and it flooded the booth," said Cebreros, decked out in native Guatemalan attire right down to the hair braids. "The fellow next to me was horrified, and came over and helped me make coffee. I was standing there in this ridiculous outfit."
Her mistake?
"You have to let the coffee de-gas when the roast is fresh," she said. "If you don't, it will blow up."
Cebreros has brewed a lot of beans since then, having founded Elan Organic Coffees, a San Diego-based coffee developer and importer. The business recently was recognized as one of the 100 fastest-growing inner-city companies by Inc. magazine, and the initiative for a Competitive Inner City, a nonprofit corporation helping distressed urban areas.
She sells beans grown through partnerships with village co-ops and estates in Africa, Central America and South America as well as New Guinea.
But when Cebreros started out, she was as green as an unroasted bean, and trying to deal with the very real possibility of dying young.
She had been diagnosed in the late '80s with a potentially fatal heart disease called cardiomyopathy, a condition where the heart muscle becomes inflamed and doesn't function properly.
The former sales executive for the Xerox Corp., who had run a couple of her own small businesses, recalled her doctor's dire words.
"He said I might need a heart transplant," Cebreros recalled. "HMO wouldn't pay for it. I had a breakdown of sorts."
Her brother-in-law had relocated to Peru, and that's where she went.
"I went to Peru, where I met alternative healers, and got my head turned around," Cebreros said. "I sold off two companies, got a divorce, and changed my life, my diet and took up exercise."
She beat the odds. Her doctor said that among those diagnosed at the same time as Cebreros, "I was the only one left alive. I was very lucky."
Back To Peru
She waited all summer to get sicker, Cebreros said.
"When I didn't, and I wasn't getting worse symptoms, I went back to Peru."
Her brother-in-law, who was living in a Peruvian village, asked her to lend a hand there.
"They had no running water, no electricity, and there was no road in and out," she said.
What the village had were coffee farmers, who worked their soil without benefit of pesticides. It gave Cebreros an idea for introducing the concept of organic coffee stateside. But there was no one back then to call for advice, except for San Diego coffee impresario Bob Sinclair, the man behind Pannikin Coffee & Tea.
"He said, 'You've got to get a broker and an importer.'"
So she did, pitching her idea for imported organic coffee , a new concept back then. Cebreros found one in Emeryville, Calif., but the relationship got off to a rocky start when he forgot to pick her up at the airport.
He finally arrived in "a great big turquoise convertible, an old classic, beat-up thing, and he said, 'I'm Bob from Royal Coffee,'" she recalled.
Cebreros was taken to an office in a "raunchy neighborhood" where they listened to her pitch, and decided to take a chance. Then they told her, "We don't use contracts. We just shake your hand." But Cebreros insisted on something more formal, so they took out a piece of paper, and wrote, "We agree to buy one container of Peruvian organic coffee from Elan Organic."
She took the piece of paper over to her bank.
"The vice president looked at me and said, 'You are so green. You can't come into a bank with a piece of paper and get money.' I said, 'It does mean something, and I will get this done one way or another.'"
Cebreros did and, in 1995, that same banker was tapped to give her an Importer of the Year award at the World Trade Center in San Diego.
The Coffee Grind
While Elan is expected to exceed $10 million in sales this year, Cebreros sees little of it.
"I'm 18 years in this business, and I never did get money," she said. "I made more money in 1985 at Xerox. It all goes back into the business."
Her next big challenge is tapping into the growing demand for organic coffee from some of the big national players. But, as always, it all comes down to money.
"There is not enough supply," she said. "There is plenty of coffee, but it's not licensed yet, inspected and certified. It takes time. It's not rocket science, but it takes time."
There aren't enough inspectors, Cebreros said, and it's all expensive.
"There are 50 people who touch it before you even get a cup of coffee," she explained. "There are lots of risks and a lot of things can go wrong , hurricanes, civil wars."
Cebreros has been spending a lot of time meeting with what she calls "the coffee mafia," trying to secure venture capital.
"I met with enough venture capitalists to learn that I am not worthy of a traditional deal," she said. "I am not a dot-com or a real estate deal. The capital I need has to come from people who get the social and environmental impact of what organics are all about."
Recently, Cebreros got good news.
The San Francisco-based Pacific Community Ventures, with offices in San Diego, agreed to take on Elan for a remodel.
"They will meet with me to polish up our business," Cebreros said. "They specialize in getting companies to the next level. I won't have to pay a penny."
Cebreros isn't one to shy away from a challenge. She is a co-founder of the International Women's Alliance, dedicated to empowering women in the international coffee industry to achieve meaningful and sustainable lives.
"Women are changing the way we do business," said Cebreros. "My motto is you've got to make a difference while you make a living."
- - -
Name: Karen Cebreros.
Title: Founder/Chief Executive Officer.
Company: Elan Organic Coffees.
Revenues: $10 million.
Employees: 10.
Age: 53.
Residence: Mission Valley.