High Marks for County Bond Issue
Monday, June 5, 2006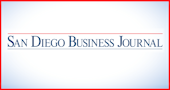 San Diego County's planned issue of $240 million in tax revenue anticipation notes was given the highest possible rating by all three credit rating agencies, reflecting what Fitch Ratings calls the county's "strong, long-term credit characteristics."
The rating was announced the week of June 5.
"This is good news. And Fitch even changed their financial outlook for the county from stable to positive," said county Chief Financial Officer Donald Steuer.
Like other cities and counties, the county borrows funds in advance of collecting property taxes, but for the last three years, the amount it has had to borrow has declined, Steuer said.
That's because the county's reserves and cash balance has increased each year. In the 2003 fiscal year, it issued $270 million in TRANS.
The two other rating agencies, Standard & Poor's and Moody's, both assigned the highest rating on the one-year TRANS, which are expected to go out between 3.5 to 4 percent.
Fitch also affirmed an AA- rating on the county's outstanding debt that includes $1.23 billion in pension obligation bonds and $206 million in certificates of participation.
San Diego County shares that rating, the highest for all state counties, with two other counties.
, Mike Allen