Epsilon Systems Solutions Wins DoD Contract
Monday, June 5, 2006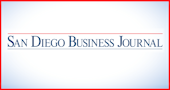 San Diego-based Epsilon Systems Solutions, Inc. won a $23 million contract to repair and upgrade the Navy's berthing barges, and service the computer systems on board, for the next four years.
Epsilon Systems Solutions was notified of the U.S. Department of Defense award on May 17. The technical services company that provides products primarily to the defense industry competed as a small business category capped at 1,000 employees.
With 420 employees in 13 locations, including more than 100 in San Diego, Epsilon Systems Solutions successfully competed against six other companies for the contract.
The company was founded in 1998, and reported approximately $45 million in gross revenues last year.
The first-year contract value is $5.7 million, with additional funds available during three, one-year options.
Ralph Staples, Epsilon Systems Solutions vice president in San Diego, said the company will maintain, refurbish and repair about 36 naval barges as well as support the local area network connections for onboard computer systems. In addition to San Diego, the barges are located in Puget Sound and Bremerton, Wash.; Pearl Harbor, Hawaii; Guam; and two locations in Japan, Sasebo and Yokosuka.
Unless extensive or disruptive work is being done, the Navy's crew will remain on the barges while repairs and improvements are being made. The barges typically include sleeping quarters, dining facilities, conference rooms and office space.
Some of the work may be done in dry dock, but Staples said that's not always necessary.
"The barge might be towed to another location," Staples said. "We'll get to move them around and tow them periodically."
Epsilon Systems Solutions submitted its bid for the barge contract April 14, after receiving the request for proposals March 10.
Staples said about 73 Epsilon Systems Solutions employees will be involved in the contract along with 10 subcontractor personnel. He said the company may hire only 10 new employees or fewer, however, because it will retain the services of the contract's former holder, Rockville, Md.-based BAE Systems Inc.
BAE Systems, an international developer of defense and aerospace systems with employees in 30 states and the District of Columbia, operates a Systems Maritime Engineering & Services division in San Diego that manages renovation projects and long-term preventive maintenance contracts.
Staples said Epsilon Systems Solutions plans to retain the "vast majority" of the BAE Systems employees that had worked on the barge contract previously. New hires for the contract could include computer specialists and project managers.
Epsilon Systems Solutions will also work with the local office of Virginia Beach, Va.-based AMSEC LLC, a marine engineering and electronic systems engineering firm jointly owned by San Diego based-Science Applications International Corp. and Northrop Grumman Newport News.
- - -
SPAWAR Computer Support: WFI, a San Diego-based developer of wireless communication networks and information technology networks, announced May 19 it will join a team in providing engineering and IT support for the local Space and Naval Warfare Systems Center.
The team received a multiple award contract of $22 million, which includes a one-year base period with four one-year options. WFI's subcontract value is estimated at $2 million for five years.
WFI will provide a range of services including test and evaluation, configuration management, support for computer systems, and Web support. The company will focus on improvements and support for installing, upgrading and testing equipment and related simulation systems in the Command and Intelligence division's laboratories.
"Once again, this is an important win for WFI's Government Services Division," said Eric DeMarco, president and CEO of WFI. "To have been awarded this subcontract further illustrates WFI's growing reputation as a technical services leader in the government arena."
WFI has nearly 2,700 employees worldwide and is traded on the Nasdaq under the symbol WFII.
- - -
Found In Translation: Carlsbad-based EOS International announced the availability of an online article synopsis collection created at a French political science research institute May 15.
EOS will maintain the database of more than 10,000 article synopses at its global data center in Carlsbad.
The article abstracts are based on economic, social and political science articles written by authors around the world for leading business publications.
EOS International Marketing Manager Elizabeth Kelley said most of the original articles were written in English or Spanish, but some were also written in Russian and Portuguese.
Students, educators and business translators at the Fondation Nationale des Sciences Politiques, a leading university in Paris, translated the articles into French, and cataloged the synopses including citations where the articles can be found.
The collection provides researchers in France with summaries of articles written in various languages.
"Basically, the French synopsis would tell them if the article has value to whatever it is they're researching," Kelley said.
Researchers access the collection online after subscribing through the EOS global data center in Carlsbad, which hosts more than 400 libraries and operates with a staff of 60. Additional offices and affiliates in more than 25 locations serve thousands of libraries worldwide. The privately held firm reported gross revenues at between $5 million to $10 million for 2005.
- - -
Web Filters A Necessity: Results of San Diego-based Websense, Inc.'s seventh annual Web@Work study announced May 17 showed 92 percent of employees surveyed believe their company has the right to install Web filtering technology to manage which types of Web sites they visit.
The annual survey conducted by Harris Interactive includes online responses from 351 information technology decision-makers who work for U.S. organizations with at least 100 employees, and telephone, online and software responses from 500 U.S. employees working for comparable-sized organizations.
Almost half the respondents, 46 percent, said they believe they are at risk of losing their job if they visited adult content using their work-owned Internet connection. Almost one-third, 30 percent, said they would be fired if they infected the company with malicious spyware or a virus.
The survey found 12 percent of the respondents admitted they have had a co-worker, friend, or acquaintance send a link to their work e-mail address that they considered offensive. Similarly, 11 percent of employees said a co-worker, friend, or acquaintance has sent a link to their work e-mail address to a Web site that they thought might contain spyware or lead to a security risk.
Of those who said they use the Internet at work for personal reasons, 50 percent said they would rather give up their morning coffee than give up their ability to use the Internet at work for personal use.
- - -
Tech Firm Recruits Partners: San Diego-based MindTouch, Inc. announced May 15 that it is recruiting authorized reseller partners to market, distribute and support its MindTouch Managed Office Server solution.
MindTouch provides intranet solutions to small- and medium-sized businesses. The company's Managed Office Server enables collaboration and file sharing among employees, and can be used to manage notes, documents and media. The product is offered exclusively through resellers, and its partnership program is designed to maximize sales.
MindTouch expects the program will help resellers "drive their bottom line by receiving upfront revenue for the initial hardware and installation, and through continuous shared revenue from the managed service contract."
"We understand the trust our customers place in the hands of their resellers, and that is why we are tapping into the fastest-growing market solely through
our channel partners," said Mark Kurtz, the vice president of marketing, sales and channel development at MindTouch.
Send defense and technology news to Julie Gallant at jgallant@sdbj.com . She can also be reached at (858) 277-6359, Ext. 3108.