Eminent Domain Becomes Point of Controversy
Monday, June 5, 2006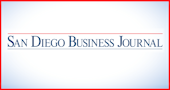 Petco Park , credited for the renaissance now taking place in Downtown San Diego , also is used as an example of what might not have happened had the city's powers of eminent domain been weakened.
The simmering debate over a local municipality's right to seize private property for the public good is now on full boil in San Diego, and elsewhere in California, as ballot initiatives and legislative bills are being proposed to further bolster private property rights.
California's eminent domain laws, considered relatively strict by national standards, requires that seized property must be designated as blighted. But Sen. Christine Kehoe, D-San Diego, wants to tighten the definition of blight, and give more powers to private property owners.
She is sponsoring two bills, both of which passed the Senate last week, and next will be considered by the Assembly.
Senate Bill 1206, among other things, tightens the statutory language of what constitutes blight, and requires local governments to present "clear and convincing evidence" before they can seize private land. Senate Bill 1650 allows private owners to lease back their property until the public use is ready; makes it harder for public entities to change the intended public use; and requires public entities to sell the condemned property if there is no public use.
The issue of private property rights and public needs came to a head in June 2005, when the U.S. Supreme Court ruled, in Kelo v. the city of New London (Conn.), that local governments have the right to take land and, in turn, give it to private developers to spur economic development and tax revenues for the community.
"Whether it's Kelo or a cigar store in the Gaslamp, many Californians are disturbed about redevelopment, and feel that their own homes and businesses are in jeopardy," said Kehoe in a recent interview.
"We have oversight responsibility to make sure that redevelopment is carried out in a transparent and fair way. These bills do tighten up the definitions of blight, and lets redevelopment decisions be challenged, give property owners more time to file lawsuits, allows the attorney general to intervene in a bigger capacity than he has now. We are looking at a whole array of redevelopment statutes, and reforming them so that the public has more ability to interact with redevelopment agencies."
Draconian Measures
But Kevin Casey, vice president of public policy for the Downtown San Diego Partnership, is concerned with "Draconian" measures that he thinks will threaten Downtown's infrastructure needs.
"I think that Sen. Kehoe has the best interest of the whole state at heart, but it will hurt Downtown," he said. "Downtown is not blighted anymore, so, from their perspective, we won't be able to finish the infrastructure. People are getting a little hysterical, getting legislators to pass this legislation."
The Downtown Partnership, a nonprofit association of San Diego businesses and individuals, is concerned about the possible consequences of Kehoe's bills, Casey said.
"Kehoe's heart is in the right place, but this legislation is not going to do what she wants it do," he added. "If this measure were enacted now, we would not have been able to build the ballpark. The language screams litigation.
"Coupled with CEQA (California Environmental Quality Act), this makes California a more difficult place to do any redevelopment projects, and for investors to come and invest money," he added. "If San Diego wasn't a paradise from water and the weather, nobody would be investing money here now, coupled with worker's comp, energy costs and traffic."
Casey is struck by what he sees as the irony of the situation.
"Let's not do anything that makes it difficult for redevelopment agencies to do their jobs," Casey said. "They need to be able to compact with areas they are in, because, without parks, community centers and fire stations, no one will be here for long.
"Our property values will decrease, they will leave, and we will have blighted areas," he said. "We will end up with the very situation they are preparing us for. It might not happen in five years, but in 10, 15, absolutely."
Public Domain
But Kehoe doesn't believe that her bills will lead to dire consequences for San Diego.
"I think that, in many portions of San Diego, even with redevelopment, there still could be a finding of blight," she said. "There is no reason for redevelopment agencies not to be able to budget for amenities and other facilities as part of their redevelopment plans."
Kehoe also evoked Petco Park as an example of sound redevelopment.
"I think Petco Park, among others, is a textbook example of how redevelopment works," she said. "My bills will not hinder those projects going forward, but it will change how the redevelopment agencies do business. They must be more responsive to the public. We are overdue for a review of redevelopment law, and we want to make sure redevelopment stays strong in California."
Kehoe said that she, too, is concerned about some of the proposed ballot initiatives circulating.
"There are three initiatives that would wipe out redevelopment as it takes place in San Diego," she said, adding that they would permit eminent domain actions only for public facilities that are in public ownership.
"Good-bye to Petco," Kehoe said. "I am not backing those. By tightening up the redevelopment statutes, and making the process clear for the average property owner, we offer voters an alternative to the initiatives on the ballot that would literally end redevelopment as we have known it for 30 or 40 years."
Balancing Needs
San Diego builders and real estate professionals seem to agree that it all comes down to a delicate balancing act between what's in the public interest versus protection of private property rights.
"You don't want to end up with a policy that throws out the baby with the bathwater," said Matt Adams, vice president of government affairs for the Building Industry Association of San Diego. "There are some legitimate concerns, and we at the BIA are fierce about private property. But we don't want to tie any hands, and delay the process even further. It will cost a heck of a lot more in terms of money to acquire things , taxpayer money. It has to be a balanced approach."
Douglas Wilson, president and chief executive officer of the Douglas Wilson Cos., and a veteran builder in Downtown San Diego, also calls for a careful approach.
"I think we have to be very cautious about not being overly reactive about eminent domain," he said. "When used judiciously, for blighted areas, and to improve the infrastructure, it can be a good thing.
"You don't want to carte blanche say that it's bad in every instance, although sometimes it's abused," he said. "We haven't had to use it, because we've been able to negotiate with sellers."
Cruzan Monroe, a San Diego-based real estate company, is nearing completion on TR Office, billed as Downtown's first historic office condo project, located directly across from Petco Park's centerfield wall.
"Eminent domain in redevelopment areas is very important," said Dennis Cruzan, co-founder of the firm. "Without it, how do you have the ability to develop projects that have significance? You need to turn around an area, but you have to be careful that you don't have large super projects and don't have a streetscape and small projects mixed in. They are what make Downtown unique.
"The TR project is a perfect example of this," Cruzan said. "You won't see many of these buildings, because the economics don't support them. In our case, it was part of the historic negotiation for the ballpark, and we had a very strict guideline and blueprint for what we could and couldn't do. In many ways, it made it easier, and, in other ways, it restricted us. But the project speaks for itself."
Kraig Kristofferson, a Downtown San Diego specialist with CB Richard Ellis, also sees both sides of the issue.
"It's a tough case for owners to think that their property may be taken, but if an area is in a redevelopment area, and is a piece of the puzzle that needs to be put together, it's justified.
"It's very difficult to justify using eminent domain to put together a residential site, because of the amount already developed and in the pipeline," he added. "But if fire stations, schools and parks are needed, that's probably the only way."