Editorial Writing Nets Award
Monday, June 5, 2006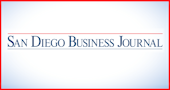 Rick Bell, managing editor of the
San Diego Business Journal
for the past eight years, wrote the second best business editorial in the nation last year, according to the Alliance of Area Business Publications.
The Los Angeles-based trade group, which represents 70 regional and local business publications throughout the states, Puerto Rico, Canada, Mexico and Australia, honored Bell June 3 with a silver plaque for his editorial, "The Truth Takes a Hit." It is the first national award of its kind to be received by a member of the Journal staff.
"Second best in the country; that's kind of cool," Bell said.
The editorial, which ran in March 2005, was critical of city officials who rejected Diann Shipione's bid for reappointment to the San Diego City Employees' Retirement System board. Shipione blew the whistle on the city's billion-dollar pension fund scandal and had asked to remain with the board. In his editorial, Bell wrote, "Shipione's snub sends another ominous message to whistle-blowers everywhere: We appreciate your conscientious effort to right the wrongs, now please go away."
Bell joined the Journal in 1998 and retired his post as managing editor May 26 to work for Workforce Management, a Crain Communications, Inc. bi-monthly magazine based in Orange County. His replacement has not yet been named.
, Jessica Long