Showdown looms between Wal-Mart, City Hall
Monday, July 24, 2006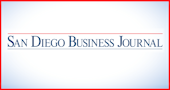 Wal-Mart Stores Inc. has less than two months left to convince City Hall not to block the controversial mega retailer from bringing its supersized store format to San Diego.
The City Council's plans to consider a strict zoning ordinance aimed at keeping mega big-box stores out of the city next month have been re-scheduled to mid-September.
That's left more time for the Bentonville, Ark.-based retailer to gather signatures from customers in support of its Wal-Mart Supercenters, which are 84,000 square feet larger than the retailer's regular popular discount stores. The stores also sell a variety of groceries, usually at lower prices than regular grocery stores.
Organized labor and other social advocacy groups have lobbied against Wal-Mart on the basis that the retailer pays its workers a less than living wage and provides inadequate benefits. The 69,000 residents who work for Wal-Mart in California make on average $10.50 an hour if they are full-time associates.
Financial impacts studied
According to a 2003 San Diego County Taxpayers Association study, an influx of big-box stores would lead to an annual decline in wage and benefits between $105 million and $221 million, plus an increase of $9 million in public health costs.
The study also reportedly found that the region would lose between $89 million and $170 million per year in pension and retirement benefits.
In its fiscal year ended Jan. 31, Wal-Mart reported net sales of $312 billion, up 9.5 percent from the previous fiscal year, and a net income of $11.2 billion, up 9.4 percent.
Last year, in California alone, Wal-Mart paid more than $783 million in state sales taxes, plus an additional $140 million in other taxes.
Kevin McCall, Wal-Mart's government affairs manager for Southern California, believes the anti-Wal-Mart rhetoric has simply gotten out of hand.
"I think there's a lot of benefits to having us in the community," McCall said. "Simply saying that Wal-Mart is negative, I don't think that's a fair thing to tell people."
While there are four Wal-Mart Discount Stores in the city and 18 in the county, the region has no Wal-Mart Supercenters. The closest one is located in Hemet, 30 miles north of San Diego in Riverside County. Statewide, Wal-Mart has managed to open just 19 supercenters compared to 144 regular format stores since adopting the format a few years ago.
The proposed large retail ordinance, as it has been dubbed, would not explicitly ban Wal-Mart Supercenters but would impose such stiff rules as to make it impossible for such projects to gain approval. Among those rules would be limits on size plus additional design and landscape regulations.
Similar rules approved
Three similar ordinances have been approved elsewhere in the state, including the latest passed last week by the Inglewood City Council.
The Rev. Altagracia Perez of the Holy Faith Episcopal Church in Inglewood was quoted as saying, "Superstores such as those run by Wal-Mart have replaced living-wage jobs with poverty-wage jobs and caused the closure of small businesses."
The other two communities where similar ordinances have passed include the city of Los Angeles and Alameda County.
But not all community representatives feel so strongly about the retailer, and Wal-Mart's McCall said it is "not the place or responsibility of elected officials to dictate the consumer marketplace" and to prove it, customers , who are also voters , are being asked for their opinions.
"The reason we're signature gathering is to reach out to our audience and let them know what's going on," McCall said. He noted that Wal-Mart has received strong support from legislators in the Coachella Valley area.
McCall said Wal-Mart has no specific location for its first supercenter, and is keeping an "open mind."
"At this point, we don't have any applications on file and we don't have any other business in front of the planning office," McCall said.
Among those unimpressed by Wal-Mart's recent signature campaign is Donald Cohen, co-founder and president of the Center for Policy Initiatives, a nonprofit advocate for San Diego's low-wage workers.
Cohen said he believes that serious discussions need to be held before Wal-Mart "obliterates the community" with unnecessary supercenters.
"It's not legitimate," Cohen said. "They're paying people off with hot dogs, telling them only what they want them to hear."