We're No. 1 in Lab, R & D; Jobs, Manufacturing, Says Tech Study
Monday, July 10, 2006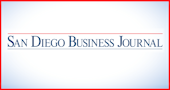 Though San Diego County's technology industry is always in flux, it has maintained top dog status as a research and development center for decades.
A new report on California's tech industry underscores the region's strength in R & D;, as well as electronics manufacturing.
The report, "California Cybercities 2006," prepared by the AeA, formerly the American Electronics Association, said the county had 25,200 jobs within the research and development and testing labs sectors.
That was ahead of second place San Francisco, which had 22,800 similar jobs.
San Diego also had 3,300 electronics manufacturing jobs, the most among 17 regions in California, according to the report done by the Santa Clara-based trade organization for the nation's technology industry.
Matthew Kazmierczak, AeA vice president, said the report demonstrates San Diego's continued shift from manufacturing to more diverse service-oriented technologies.
"While San Diego was experiencing some of the aftereffects of the bursting of the tech bubble in 2004, there were still many sectors that were growing," Kazmierczak said.
Duane Roth, the chief executive for Connect, a local nonprofit organization that assists technology startups, said the region's top ranking for research employment is no surprise.
Research Hub
The fact that so many highly regarded research institutions are located so closely to one another creates lots of opportunities for new business formations and partnerships.
"The fact that we put so many of these research institutions within a small footprint, and a concentrated area, that made it all happen," Roth said. "The collaboration and forming new businesses keeps feeding on itself."
Roth referred to the five square miles that encompasses the area around the UC San Diego campus. The area boasts 50,000 scientists and engineers.
The Cybercities study counted 99,945 technology jobs in the region in 2004, down 2 percent from 2003.
The analysis was 2 years old because that was the most recent data available from the U.S. Bureau of Labor Statistics.
The report said San Diego ranked first in the number of new tech businesses launched , 550 , in the five years from 1999 to 2004.
Tyler Orion, Connect chief operating officer, said because of the presence of such agencies as Spawar (the Navy's Space and Naval Warfare Systems Command) and the California Institute for Telecommunications and Information Technology, the area has attracted a great deal of federal and state research dollars.
"We get an awful lot of National Science Foundation money, and there's a tremendous amount of money coming from the Department of Defense that go to such larger companies as SAIC (Science Applications International Corp.) Cubic, Titan (now L-3 Communications) and General Atomics."
After R & D; and testing, the next largest technology sector locally was telecommunications services, which employed 15,300, according to the Cybercities report.
Qualcomm Inc. was responsible for a sizable portion of that number, with more than 9,000 employees.
The company, which specializes in wireless communications software, had 6,000 employees in 2004.
"Qualcomm is clearly the whale in the pond but there are a few others that have a large presence here including Nokia, Texas Instruments and Motorola," said Rory Moore, the CEO of CommNexus, formerly known as the San Diego Telecom Council.
New Opportunities
Moore was aware of Nokia's recent announcement that it was cutting back on its research into code division multiple access, the wireless technology spawned by Qualcomm, a move that would cause some job losses locally.
But usually, when large companies make cuts, it usually creates new businesses, Moore said.
Statewide, the tech industry lost a net of 10,600 jobs in 2004. San Diego's net loss was comparatively small for the same year, about 1,800 jobs.
Salaries for high-tech jobs were well above the average for all of the regions analyzed. In San Diego, the high-tech annual wage was $85,189, more than double the average private sector median wage of $41,601. The high-tech average was fifth highest in the state, the report stated. Highest was Santa Cruz, with an average of $101,662.
The third largest sector in local tech staffing was engineering services, with 12,500 workers.
One the area's largest tech employers, Science Applications International Corp., has a work force of more than 43,000 employees, 10 percent of whom work in San Diego. Because the company is planning to conduct a public stock offering this year, it declines to comment on its operations.
SYS Technologies Inc., a local provider of diversified engineering services mainly to federal agencies, including the Department of Defense and the Department of Homeland Security, was another firm in this category.
As of last month, it employed 400 workers, up from 350 employees last year, said Chief Financial Officer Edward Lake.
SYS said acquisitions in the past two years accounted for the increase in workers. From March 2004 to April 2006, the company acquired seven smaller businesses, said Lake.
Although San Diego captured first place statewide for electronics manufacturing with 3,300 employees in 2004, the region has lost some of those same jobs in the past two years, including layoffs at Sony Corp.'s facility in Rancho Bernardo, and the relocation of Kyocera Wireless cell phone manufacturing to Tijuana from San Diego, which resulted in the loss of more than 800 jobs.
Many experts say more of these assembly and lower skilled manufacturing jobs are likely to be exported to cheaper labor countries such as China and Mexico, while San Diego's future has to be focused on the higher skilled positions that often result from synergies created by this area's research institutions.
"Our competitive advantage has to be in the innovation piece," Roth said.