Callaway's Record Earnings Come Despite Difficulties
Monday, January 30, 2006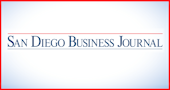 Callaway Golf Co. ran through a gauntlet of challenges during 2005.
The Carlsbad-based manufacturer of golf balls and clubs, notably the Big Bertha line, achieved record earnings for the year: $998.1 million. Yet it continued to experience difficulties with folding its historic business in with the Top-Flite Golf Co., which it acquired in late 2003.
Chief Financial Officer Brad Holiday put the cost of the integration at $68 million, higher than the $60 million to $65 million range estimated earlier.
The company also continued to plow through a restructuring announced in September. Callaway announced then that it planned to cut 500 jobs overall and 200 in Carlsbad.
Shareholders received those updates during Callaway's quarterly earnings conference call Jan. 25, along with news that the company was in fact making popular products , so popular that the company didn't provide the market with enough of them. Callaway plans to raise inventory during 2006, said Holiday.
Callaway reported particularly strong sales in Asia. Sales increased 47 percent in Japan during 2005 and 29 percent in the rest of Asia.
The company reported a net loss of $18.7 million, or 27 cents per share, on net sales of $154.5 million in the final quarter of 2005. That compares with a net loss of $28.5 million, or 42 cents per share, on sales of $144.4 million during the same quarter of 2004.
Callaway, whose fiscal year matches the calendar year, closed out 2005 with net income of $13.3 million, or 19 cents per share, compared with a net loss of $10.1 million, or 15 cents per share, in 2004. Sales of $998.1 million beat the $934.6 million figure reached in 2004.
The company sells clubs, balls and accessories under the Callaway Golf, Top-Flite, Odyssey and Ben Hogan brands. It trades on the New York Stock Exchange as ELY. Shares closed Jan. 25 at $14.66, before the earnings release. The following morning, shares were trading up at $14.85.
New Products
Following the earnings release, Callaway made a wave of new-product announcements. These included the Fusion-FT Hybrid clubs and its stainless steel X fairway woods.
Initial response to new products has been positive, said Chief Executive George Fellows. "We think the Callaway story is going to be quite a positive one going into '06," Fellows told investors at the end of the conference call.
For the quarter, the company took a $3 million loss for integration charges, which was offset by a $1.2 million income tax benefit.
To handle restructuring, the company took a $2.1 million charge for the quarter; that was offset by an $800,000 tax benefit.