Neurocrine Waits on FDA Review
Tuesday, January 10, 2006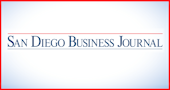 The Food and Drug Administration has extended its time to review Neurocrine Bioscience's application for its sleeping pill Indiplon, but the company reports that it is moving forward with marketing the drug.
The San Diego bio-pharmaceutical company announced the news Jan. 10, and shares were down $1.49, or 2.3 percent, in after-hours trading.
Chief Executive Officer Gary Lyons said in early November that the company expected the FDA to make decisions on Indiplon in mid-February and mid-March , one ruling on the tablet form and one on the capsule form. He did not indicate which date was for which form.
But now, the FDA is promising to make a decision by May 15 for both forms.
The company reports that the delay is because of a package insert addition about information from a study that showed no impairment on patients' ability to drive the day after taking Indiplon, as well as a review by the Drug Enforcement Agency.
Neurocrine is developing Indiplon with Pfizer, Inc. With 364 local employees, Neurocrine is the sixth-largest biotech company in San Diego and has eight products in clinical trials.
The company's stock, which trades as NBIX on the Nasdaq, closed at $64.49 on Jan. 10.
, Katie Weeks