Football Vs. Olympics , Ad Club Debates Value
Monday, February 13, 2006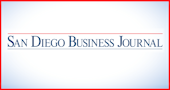 By now, most post-Super Bowl chatter about the commercials has ended and workers throughout San Diego are back to discussing more important things, like who will this season's "Bachelor" choose and can "Lost" castaway Sawyer be any more evil?
After all, it was an average year at best for Super Bowl commercials, with only a handful of shining moments, according to many industry analysts.
But in the San Diego advertising community, understanding the commercials shown during this year's Super Bowl may hold the key to understanding what's being shown during the 2006 Winter Olympics, which run through Feb. 26.
During a recent San Diego Ad Club luncheon, panel speaker Marlee Ehrenfeld of MJE Marketing said some of the big companies that are traditionally relied upon for creative Super Bowl advertisements, such as Coca-Cola, were absent this year. Ehrenfeld speculated that it may be because they'd rather invest their full attention into the Olympics, especially now that U.S. athletes are expected to do well.
According to sportscaster Jeff Cawley of KGTV 10 News, U.S. athletes in general do not traditionally excel as well during the Winter Games as they do during the Summer Olympics. But Cawley said the strong showing during the 2002 Winter Games, combined with high hopes for this year, may entice more American consumers to watch.
Ehrenfeld, who is president of MJE Marketing, said gender might also have played a role in the lack of memorable ads aired during the Super Bowl. Female purchasing power is growing, and many industry analysts predicted this Super Bowl would cater heavily to that fact, but Ehrenfeld said those predictions fell flat.
It makes sense for advertisers to expect a stronger female viewing audience during events such as ice skating vs. a football game, Ehrenfeld said.
Panelist Michael Mark, the chief executive officer of NYCA, said in addition to gender, the sheer fact that Olympic programming lasts more than two weeks as opposed to one afternoon of a Super Bowl matchup may entice advertisers in that direction.
"It depends on your marketing plan," Mark said. "You'll get a frequency in the Olympics that you can't get in the Super Bowl."
Another panel member, Ian Anderson, the associate creative director of Castle Advertising, isn't convinced one event should take precedence over the other.
"I think it's probably a mistake not to have your product shown in the Super Bowl; it's the Super Bowl," Anderson said.
Of the ads that did run during this year's Super Bowl, the panel gave the usual high marks to the commercials that used sophomoric humor to appeal to men and surprise kudos to a Dove soap commercial that featured a series of young girls coping with self-esteem issues. The ad is part of a larger campaign by Dove to promote society's acceptance of inner beauty. Although it appears at first oddly placed among beer, car and burger ads, Mark said he didn't see it as a "woman's ad." Instead, Mark said he saw a smart commercial catching men off-guard, especially those with daughters.
- - -
Name Game: Branding the brand maker. That's the name of the game , pun intended , for San Diego-based Mires, or should we say MiresBall?
The company, which celebrated its 20th anniversary last year, announced Feb. 6 that it is changing its name to MiresBall to acknowledge longtime principal and Creative Director John Ball. The singular name Mires was chosen 20 years ago in honor of founding principal Scott Mires.
"With his vision and tireless creativity, John has played an instrumental role in (the) growth of this company," said Mires. "Changing the firm's name to MiresBall underscores the significance of John's impact on our achievements."
In addition to the name change, MiresBall is unveiling a new firm positioning, focused on its expertise building brands at what they refer to as "the intersection of lifestyle and innovation."
Send media and marketing news to Jessica Long at jlong@sdbj.com. She can also be reached at (858) 277-6359, Ext. 3114.