S.D. Student Loan Firms in a Growth Pattern
Monday, February 6, 2006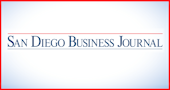 Correction: In a story printed in the Feb. 6 edition of the San Diego Business Journal, Robert DeRose was said to be a consultant to Student Loan Xpress. He is in fact the company's vice chairman. The Business Journal regrets the error.
Despite last week's congressional vote to cut some $12 billion from the federal student loan budget, local lenders specializing in the line are enjoying fatter portfolios and expanding operations.
Three different student lenders based in San Diego all grew last year, and expect more of the same this year.
The budget slashing passed by Congress on Feb. 1 that takes effect July 1 eliminates a variable interest rate on new student loans, increases rates on loans to parents of students, and prevents students still in school from consolidating multiple loans.
Officials at several student loan companies said the loan program's changes will likely spur even more business.
"There's no question the changes that take effect July 1 will lead to significant activity this spring on consolidation loans," said Mark Brenner, the vice chairman of College Loan Corp., a San Diego-based firm that originated about $3 billion in loans last year.
Student Loan Xpress, also based in San Diego and a subsidiary of New York-based CIT Group Inc., did about $2.7 billion in new loans, more than $1 billion more than it did in 2004.
CIT Group, with more than $60 billion in assets, acquired Student Loan Xpress about a year ago as part of its purchase of Educational Lending Corp.
Early Dividends
CIT Chairman Jeff Peek, visiting the Student Loan Xpress headquarters in Carmel Valley recently, said after a year, the deal is already providing nice returns to buyers.
"The profitability is better than we expected," Peek said, without divulging exact figures.
Peek said the parent firm is pleased with the way the acquisition is performing and there are no plans to merge the company's operations into existing CIT subsidiaries and close down local offices.
"This was a green field acquisition for us," said Peek, noting that CIT previously did not make student loans.
"We can say definitively that this will be our headquarters for educational finance in San Diego."
Student Loan Xpress increased its staff by some 60 workers last year in response to the rapid growth to bring its total to 350. About 140 work in San Diego.
Peek said by the end of this year, Student Loan Xpress should grow by about 50 percent and have some 500 employees. Most of the expansion will be in the corporate headquarters and at its Cleveland servicing center, which would rise to about 200 employees, Peek said.
Trend To Continue
Student Loan Xpress Chief Executive Officer Mike Shaut said the changes to the federal loan program aren't going to hurt the trend in increased lending in recent years.
"The bottom line is that the market demographics continue to expand, and the costs (for college) continue to expand," he said.
College Loan Corp., founded in 1999, has consistently increased its lending in recent years, and risen to become one of the nation's largest student loan firms, according to figures compiled by the U.S. Department of Education.
Brenner trumpeted that growth and predicted breaking into the top 10 this year.
"We went from the 63rd largest to 39th to 19th and to 11th place in the last four years. This year, we'll definitely get to the top 10," he said.
To accommodate the rising portfolio, the firm expanded its staff last year by about 100 people to bring the total to 550. About 465 work at CLC's corporate headquarters in Rancho Bernardo.
The new jobs are in telemarketing, sales and marketing, operations and administration, said Brenner. In addition to San Diego, the company has offices in Washington, D.C., and Minneapolis.
Achieving Its Goals
Goal Financial, yet another specialist in making federally guaranteed student loans and based in Mira Mesa, has seen its portfolio rise as well in recent years.
Thom Stohler, spokesman for the privately held Goal Financial, said the changes passed in the budget bill last week will cause some decline in the amount of loan consolidations, but he didn't see any letup in other loan products the firm offers, including Stafford loans to students, and Plus loans to parents.
Last year, Goal did about $2 billion in loan originations. At the end of 2005, its portfolio was about $6.5 billion, up from $4.5 billion at the end of 2004.
Goal boosted its staff last year by about 60 people to bring the total to 250. By the end of this year, employment is expected to grow to about 300, Stohler said. All but five workers are in San Diego.
Besides being competitors, all three lenders have a common root in a company specializing in direct student loans formed in 1992 by Robert DeRose and partner Marcus Katz. After the company was sold to American Express, and a required non-compete term expired, DeRose bought it back and renamed the company Educational Lending Group.
In 2000, Katz joined with son Ryan to form a new company, Student Loan Consolidation Center, which changed its name to Goal Financial in 2004.
Ryan's older brother, Cary, who also previously worked with DeRose, launched College Loan Corp. in 1999. DeRose still works for Student Loan Xpress as vice chairman.