Affordable Property Draws Businesses to Burgeoning Otay Mesa
Monday, August 21, 2006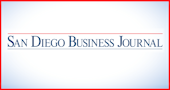 BY AMY YARNALL
Boasting a large quantity of affordable land, Otay Mesa has become a pivotal point for development of commercial and industrial real estate in San Diego County.
Located east of Interstate 805 and south of the city of Chula Vista, Otay Mesa is one of the largest commercial areas on the U.S.-Mexico border.
Alejandra Mier y Teran, the executive director of the Otay Mesa Chamber of Commerce, said the undeveloped land is being rapidly bought and developed.
"What we have heard informally from developers and seen in quarterly reports is that we are moving at an accelerated pace of development in Otay Mesa," Mier y Teran said. "Within these last four months there has been a lot of industrial activity picking up."
Biltmore Holdings LLC is developing Biltmore Ocean View Hills within the Ocean View Hills Corporate Center, developed by San Diego-based Sudberry Properties real estate development and asset-management firm.
The project consists of six industrial buildings totaling 87,500 square feet, which range from 985 to 6,800 square feet each, said Thomas Smith, West Coast partner for Biltmore Holdings.
The six-building project is available for sale, Smith said.
"This is great for small businesses that are not able to purchase large buildings," Smith said.
"It is a Class A project, offering a unique mix of industrial and office buildings," Smith added. "We are in one of the finest industrial parks in San Diego. It is only 15 minutes to downtown and literally five minutes from the border."
Accommodating Industry
With plans under way for convenient access, Mier y Teran said she expects to see demand for industrial activity to soar.
"Part of the reason for the increased development is that we will have a highway which will be connecting us to San Diego freeways," Mier y Teran said. "The South Bay Expressway, which runs north and south, will be right near us. It is expected to be open in the summer of 2007."
The South Bay Expressway will be a 10-mile express toll road that will extend from state Route 54 in Spring Valley, through eastern Chula Vista and connect to state Route 905 in Otay Mesa near the U.S.-Mexico international border.
"This is an incentive for businesses to consider; if you have business owners, it would be relatively easy to have access to Otay Mesa," said Linda Greenberg, senior vice president at a local Colliers International office. Greenberg specializes in sales and leases for industrial properties.
Chris Wood, senior director of Opus West Corp., agreed.
"We knew long term that it would work out with the highway," Wood said.
Opus Crossings is an eight-building industrial park with 320,885 square feet located in Otay Mesa. The industrial park was built on more than 18 acres and completed in January. All design and development was completed in-house, using Opus Architect Engineers and Opus West Corp.
"Within six weeks of completion we were absolutely sold out; we were pleased," Wood said.
Projecting three years out, Wood predicts more companies will be relocating out of East County and into Otay Mesa.
"In East County there is low vacancy and little land," Wood said. "This will change the traffic flow."
Greenberg of Colliers International acknowledges that the expressway, designated as Highway 125, will attract businesses from throughout the county.
"I think what you will see with the Highway 125 is businesses that are not in Otay Mesa will be bringing employees from other parts of the city and county," Greenberg said. "This will increase traffic counts in the south and decrease the counts going north, because businesses will be providing more opportunities closer to home."
Maquiladoras Have Company
Otay Mesa was once primarily a maquiladora market, where workers would come from Mexico and the United States to work in assembly plants. Now, Wood said, the market environment "has shifted from about 90 percent maquiladora market to about 75 percent," with businesses having an interest in the affordability of real estate.
More businesses are relocating to eastern Otay Mesa because of its affordable real estate prices compared with the rest of San Diego, Wood said.
"To purchase land in central San Diego, right now it would be about $25 per square foot and in Otay Mesa it's now about $13 to $14. It's about half the price," Wood said.
In addition, Greenberg said businesses making Otay Mesa their home are locating there "for more economic reasons than having an interest in Mexico."
"We are the hottest market in San Diego right now and we would like to secure a significant amount of land for businesses and employment," Mier y Teran said.
Room For Growth
Colliers International shows vacancy at 14 percent for Otay Mesa in its second-quarter reports for direct subleased space.
"A 10 percent vacancy is considered a healthy, landlord oriented market," Wood said. "When vacancy rates approach 18-20 percent, there is cause for concern as that is a sign of a potentially soft market.
"When you add a significant amount of product in the development pipeline to an 18 percent vacant market, it is not a healthy trend in the short term."
However, Wood added, that has always been the nature of growth in the Otay Mesa market. It comes in waves with small boom-bust cycles.
Wood and Greenberg offered different vacancy percentages for Otay Mesa. Wood reported a rating of 18 percent vacancy for the area compared with Greenberg's 14 percent vacancy rate report.
"The outlook for development is very healthy," Greenberg said. "Companies that need exceptionally large pieces of land basically have Otay Mesa to look to."
The next steps for Otay Mesa will be completing a community plan update and implementing it by fall 2007. The plan update is looking at keeping residential housing to the west and industrial development to the east, Mier y Teran said.
There hasn't been a plan update since 1981. Residential developers are funding the plan update and Mier y Teran said, "They have told the city of San Diego, 'I will fund it as long as you consider these alternatives.' "
Alternatives were proposed in July and include two plans for mixed-use that incorporates residential and industrial developments.
"We don't think this is a good idea, with truck traffic, kids and bikes, it's just incompatible for what goes on here," Mier y Teran said.
Approximately 6,000 trucks are moving in and out of Otay Mesa on a regular basis, Mier y Teran said. "We are confident that once the council members see the implications, they will not let this happen."