Hotels at Former Base Financed
Tuesday, August 15, 2006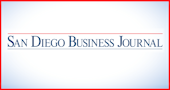 Alex. Brown Realty Inc. of Maryland has announced that it will provide $17.1 million in financing for two hotels to be built at Liberty Station, which was formerly the Naval Training Center in Point Loma.
San Diego-based Corky McMillin Cos. and the city of San Diego's redevelopment agency are the master developers of the 360-acre project.
Thomas Burton, the chief investment officer of Alex. Brown Realty, a privately owned real estate investment firm, said it has entered into a joint venture with Huntington Hotel Group, a Texas-based hotel developer, to build a 200-room Courtyard by Marriott and a 150-room Hilton Homewood Suites on 12 acres at the southwest corner of Liberty Station. A completion date of mid- to late 2007 has been set.
The Liberty Station venture marks the fourth project on which the two out-of-state firms have collaborated.
Construction will also include building a portion of the walking and biking path planned to connect NTC Park to the north and the Harbor Drive pedestrian bridge to the south and provide access to Spanish Landing and downtown.
When it is completed, Liberty Station will include 125 acres of open space incorporating a 46-acre waterfront park and boat channel with connections to San Diego Bay, shops and restaurants. A 28-acre site will be devoted to a civic, arts and cultural district, while 22 acres are earmarked for an educational district. Three hotels are slated for the project, as are seven office buildings, 349 homes and a nine-hole golf course.
, Connie Lewis