Architect Institute Announces 2006 Design Awards
Monday, August 14, 2006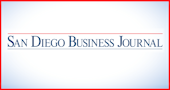 The American Institute of Architects, San Diego chapter, on Aug. 7 announced the recipients of its 2006 design awards.
The Energy Efficiency Integration Award was presented by San Diego Gas & Electric Co. to San Diego architect Tucker Sadler for its work on Kyocera Solar Grove in Kearny Mesa.
Honor awards went to Graham Downes Architecture for Tower 23 in Pacific Beach; and Lloyd Russell for the R3 building in downtown San Diego.
Merit awards went to architect Public for Rankin Creek House in Montana; Luce et Studio for Nissan Design America in La Jolla; and Sebastian Mariscal Studio for On Grape in downtown San Diego.
Citation Awards went to Perisic Design Studio for Hammond Lofts in downtown San Diego; Heritage Architecture & Planning for Spreckels Organ Pavilion Lighting & Restoration in Balboa Park; Public for UC San Diego's Original Student Center Expansion Phase I in La Jolla; Roesling Nakamura Terada Architects for San Diego Mid-City Bus Rapid Transit Station in San Diego; Hanna Gabriel Wells for Garty Family Rowing Pavilion at the San Diego Rowing Club in Mission Bay; Heritage Architecture & Planning and HOK & Antoine Predock for Western Metal Supply Co. Rehabilitation in downtown San Diego; Tucker Sadler for Kyocera Solar Grove; and Roesling Nakamura Terada for the Imperial Avenue Master Plan in San Diego.
Aaron Anderson was named Young Architect of the Year and presented with a check for $2,500.
Program sponsors included Savings by Design, CADD Resources, OCB Reprographics, LSW Engineers, RCP Block & Brick Inc., Premier Home Systems, Swim OK, Coronado Brewing Co., Delawie Wilkes Rodrigues Barker and Pella Architectural Products.
, Pat Broderick