Three Drop Bids to Run Hospital
Friday, August 11, 2006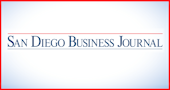 Three hospital chains have dropped bids for San Diego's Alvarado Hospital Medical Center. Owner Tenet Healthcare Corp. is under federal orders to sell the East County facility by February.
Sharp HealthCare, Scripps Health and Kaiser Permanente have exited the bidding process, the systems confirmed Aug. 10.
Tenet spokesman Steve Campanini confirmed that there are five bidders remaining, all of which promise to keep the facility an acute care hospital.
Campanini said all five have experience in health care fields, but would not confirm that they all have hospital-specific experience.
The orders from the Health and Human Services Agency to close extend from lawsuits that charged the hospital, which serves a community of about 900,000 people, broke anti-kickback laws. For example, the settlement for one suit said Alvarado officials gave money to new doctors for office improvements that were never made.
Scripps Chief Executive Officer Chris Van Gorder, who said Tenet's quick time frame for selling the hospital made him uncomfortable, said he's doubtful about how long the eventual buyer of the hospital will stay in the health care business.
"Whether they will stay the course , that's the million dollar question," Van Gorder said.
Campanini said confidentiality agreements prohibit him from giving information about the bidders.
Sharp HealthCare would say that only after considering the acquisition, officials decided it "does not align" with the private, nonprofit hospital chain's business strategy and that, "We are looking forward to expanding our capacity at Sharp Grossmont Hospital in East County."
Van Gorder added that deciding to purchase a hospital typically takes several months of evaluation.
"It's a pretty complex and major transaction," Van Gorder said. "We would have had to tour the facility quickly, and they wanted our offer within weeks."
Kaiser Permanente spokeswoman Sylvia Wallace said the cost for the hospital plus the $70 million in mandated seismic upgrades was too much for Kaiser.
"There was a strong concern (in the community) that this remain a community hospital," Wallace said, adding that Kaiser physicians work exclusively for the company. "Kaiser is not a community hospital."
Only members who have Kaiser health plans can go to Kaiser hospitals for anything other than emergency services, she said.
She said she was not authorized to disclose any financial terms discussed, but she added that the sale of HCA Inc., the largest chain of for-profit hospitals, could force Alvarado to take a lower asking price.
"If (HCA) is going to put a lot of hospitals up for sale, this could get really interesting."