Pacific Western Bank to Debut
Thursday, August 10, 2006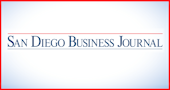 First Community Bancorp, the Rancho Santa Fe holding company to San Diego-based First National Bank, said it's combining that bank with a sister bank in Los Angeles to form a new bank called Pacific Western Bank that would be headquartered in downtown San Diego, and eventually hold about $5.5 billion in total assets.
First Community announced in May the purchase of Escondido-based Community Bancorp, with about $900 million in assets, that it plans to consolidate into Pacific Western Bank.
The holding company is also applying to change its charter from a national bank to a state bank at the time of the banks' merging.
The transactions should be completed by the fourth quarter, the parent company said.
Matt Wagner, president and CEO of First Community, said, "Our plan of consolidation and conversions is designed to enhance opportunities for our customers, and to maximize the franchise value we have created with our subsidiaries across Southern California."
First Community said it was buying Community Bancorp, paying 0.735 of its stock for each share of Community Bancorp stock, or an aggregate $277 million at the time the deal was announced.
Following the completion of that bank, with 12 branches, and the merger of the two subsidiary banks, Pacific Western Bank would have about 70 branches in San Diego, Orange, Riverside, San Bernardino and Los Angeles counties.
The new bank would be headed by Wagner, who would become chairman and CEO. Wagner is also president and CEO of First Community Bancorp, which will move its office to the same downtown building on A Street.
Michael Perdue, current CEO of Community Bancorp, would become president of the new bank and president of First Community Bancorp.
Robert Borgman, current president and CEO of First National Bank, would become a director for the Pacific Western Bank.
John Eggemeyer, chairman and founder of First Community Bancorp, began building the banking firm in 1994 when he obtained a controlling stake in Rancho Santa Fe National Bank. He gradually expanded from that base, buying several banks in Riverside and San Bernardino counties and then began expanding into other areas. First Community has since acquired 17 different banks, mostly in the Los Angeles area. Among those acquired in San Diego were First National, Capital Bank of North County, and the Bank of Coronado.
Eggemeyer, who also heads up an investment bank called Castle Creek Capital in Rancho Santa Fe, conducted a similar purchase and consolidation of smaller banks in the Orange County area in the late 1990s. In 1999, he sold the franchise, called Western Bancorp, to U.S. Bancorp in 1999 for about $1 billion.
, Mike Allen