Sempra Net Income Soars
Thursday, August 3, 2006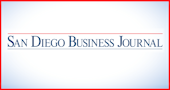 Sempra Energy, a San Diego-based utility and energy company, reported net income of $373 million on operating revenue of $2.49 billion in the second quarter.
One year ago, Sempra reported quarterly net income of $121 million on revenue of $2.22 billion.
Asset sales generated $1.3 billion, before taxes, during the quarter ended June 30. Net income from discontinued operations was $188 million, principally related to gains from asset sales.
Income from continuing operations for the second quarter of 2006 increased 55 percent from the same period last year to $185 million from $119 million.
"Our initiative to divest nonstrategic assets has exceeded our expectations," said Donald Felsinger, Sempra's chairman and chief executive officer.
During the second quarter, record heat pushed net income for a Sempra subsidiary, San Diego Gas & Electric Co., to $65 million , more than double the previous year's earnings of $29 million for the same period last year.
The company released its earnings early Aug. 3.
, Brad Graves and Andy Killion