New Leader, Cash for PhotoThera
Wednesday, April 26, 2006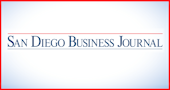 PhotoThera Inc., a Carlsbad company developing a laser treatment for stroke patients, will end the month with a new leader and a $30.5 million infusion of venture capital.
Thomas Wilder went to work as PhotoThera's president and chief executive April 17. Dr. Jackson Streeter, who previously held the chief executive's job, will be chief scientific officer and chairman.
The company announced April 21 that it had raised $30.5 million in its series C round of venture funding. Investors included Delphi Ventures, DeNovo Ventures, Hamilton BioVentures, Warburg Pincus, the Vertical Group and Solstice Capital.
The company closed its $19 million Series B round in 2004.
Streeter founded PhotoThera in 1997. The company originally went by the name Acculaser.
Wilder has experience in medical device companies, including more than a decade at Minneapolis-based Medtronic Inc. He most recently worked at MicroTherapeutics Inc., which merged into another Minnesota company, EV3 Inc., in January.
, Brad Graves