Callaway Earns 33 Cents Per Share
Wednesday, April 26, 2006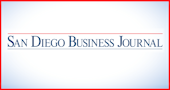 Callaway Golf Co., the Carlsbad maker of golf clubs and balls, reported first-quarter net income of $22.9 million, or 33 cents per diluted share, on net sales of $302.4 million.
Earnings were 36 cents per share when calculations excluded charges for the integration of the Top-Flite operation (1 cent per share) and employee stock compensation (2 cents per share).
In the year-ago quarter, Callaway had net income of $18.3 million, or 27 cents per share, on net sales of $299.9 million.
The company released its earnings April 26 following the close of the market. Callaway stock, traded on the New York Stock Exchange as ELY, closed that day at $15.83, down 12 cents from the previous day's close.
Two weeks earlier, on April 12, Callaway's stock closed down 8 percent. It was the day after the company told analysts that earnings (excluding charges) would be in the range of 34-36 per share. Analysts surveyed by Thomson Financial had expected 48 cents per share.
Callaway's first quarter ended March 31.
, Brad Graves