Street Fests Add Value to Small Businesses
Monday, April 17, 2006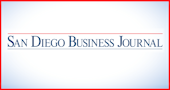 Open-air art festivals and street fairs might appear as little more than a pleasant way to celebrate creativity while soaking up a little sunlight.
But to the dozens of small-business owners in San Diego's Little Italy district, an event such as that can be just as healthy for the wallet as it is for the soul.
The 22nd annual ArtWalk is coming to the neighborhood just north of Downtown later this month, and while organizers are dealing with last-minute preparations, shop owners such as Gayle Stone of Simply Italian are eagerly anticipating one of the year's most profitable weekends.
"The store will get so busy during that event, you won't even be able to see across it," said Stone, whose shop on India Street consists of 1,200-square-foot and 600-square-foot galleries joined in the middle by a small courtyard.
Simply Italian sells imported, handmade Italian products and will see up to 200 people at its busiest times during the two-day ArtWalk, which will run from noon to 6 p.m. April 29-30. Stone said that the crowd will consist of many of her regulars as well as newcomers drawn to the shop by the event. She also expects many newcomers to drift in during the next several weeks following the event because she says many will opt not to fight the crowds and come back another day to visit shops that caught their attention during ArtWalk.
Unlike Stone, who has been in Little Italy for five years, small-business owner Tess Brown is a newcomer to the community and thus is about to experience her first ArtWalk weekend.
Brown, who along with her husband, sister and brother-in-law bought Chi Chocolat, Inc. on India Street eight months ago, has high hopes for this year's ArtWalk.
"We're not too sure what percentage of our business that might affect yet but we do expect to get quite a bit of traffic from it," said Brown.
Coping With Construction
Like many of Downtown's older districts, Little Italy has not escaped rapid redevelopment, with a bevy of high-rise condominium projects and trendy boutiques being added.
"In the beginning, we thought maybe (construction) might be a problem, but it really hasn't stopped anything yet," said Brown. "We love the fact that it is expanding. I just hope it expands in the right way."
For those who were around during the heaviest construction, working together has proved to be the way to go.
"We understand that Little Italy is a destination-type place, and just like the shopping malls promote themselves, we've taken on that approach to working together, stretching our individual resources further than they might go otherwise," said Stone, of Simply Italian.
Although much of the dust appears to have settled this year as projects reach completion, the past several years have been filled with construction activity and all the related nuisances that implies.
"With Little Italy being under construction so much, it has changed a little bit year after year," said Sandi Cottrell, managing director of ArtWalk, which in addition to being the name of the event, is actually a private, for-profit entity based in Little Italy.
According to Marco Li Mandri, the chairman of the Little Italy Association, events such as ArtWalk have helped counter construction impacts.
"The last eight years, we've seen the most radical changes in terms of land changes than we have in the last 100 years," said Li Mandri, whose group is a public benefits association formed in 1995.
Li Mandri also noted that it's been a challenge balancing the community's remaining immigrant roots with its newest residents and emerging businesses. Li Mandri estimates that of the some 5,000 residents who call Little Italy home, more than half , about 3,000 , are new to the area, taking advantage of the community's recent vertical growth that features more multilevel residential opportunities.
More Marketing Moves
In addition to ArtWalk, which is free and annually draws 70,000 people, the Little Italy Association sponsors the Festa and Carnevale events. The events seem to be paying off for Gary Benzel, owner of the Igloo Store on West Beech Street. Benzel sells products designed by independent artists and up-and-coming graphic artists, including books, clothes and small home furnishings. He moved his business from East Village to Little Italy about a year ago.
"We were open last year for it and it was definitely positive," Benzel said, noting that since the relocation, he's probably seen about a 10 percent increase in sales.
ArtWalk was also originally held in the East Village. It was moved to Little Italy a little less than 10 years ago.
"I think Little Italy is a natural home for something like this, because it's such a creative community to begin with," said ArtWalk's Cottrell. "It's just sort of been a very natural marriage."
It's also profitable to the hundreds of artists who show their wares.
"One of the aspects that many people may not think of in terms of business is that this event makes money for the artists," Cottrell said. "Last year, close to a million dollars in art was sold."