Bonds May Hold Key to City's Financial Recovery
Monday, April 17, 2006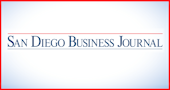 Borrowing money to get out of a financial hole isn't necessarily the most prudent way to conduct business.
But that doesn't hold if you're talking about the city of San Diego, which is considering borrowing $674 million from the public markets over the next three years to plug a $1.4 billion deficit in its employee pension fund.
The borrowing, to commence this year through the issuance of about $100 million in bonds and a key part of Mayor Jerry Sanders' financial recovery plan, is a well-known strategy used by other government agencies, including San Diego County.
"This is a fairly recognizable tool that has been used by both public and private entities," said Dan McAllister, the county's tax collector and treasurer.
While the city's pension debacle has captured loads of negative ink, the county has quietly issued three rounds of pension obligation bonds starting in 1994 that have helped ensure the agency's pension fund would remain relatively healthy.
"We were one of the first public entities to do it," said McAllister.
The county issued $430 million in pension obligation bonds in 1994, $737 million in 2002 and $450 million in 2004.
The bonds issued in 2002 were used to pay off the earlier pension bonds and pay down what was then an unfunded liability of more than $1 billion. An unfunded liability is the total of what is owed by the fund to both its retired and active employees.
McAllister said the county's fund that is now in excess of $7 billion, has a funded liability ratio of 80.3 percent. In contrast, the city's pension fund of more than $4 billion was most recently said to have a funded ratio of 67 percent.
Under Sanders' plan, the city would securitize annual tobacco settlement funds for $100 million later this year to reduce the pension deficit. During three fiscal years, the plan calls for a total infusion of $856 million, including $674 million in bonds, which would bring the pension fund to nearly 84 percent of its funded liability.
No Easy Feat
Yet issuing city bonds has been a big problem for San Diego in recent years because it has not completed annual audited financial reports for fiscal 2003, 2004 and 2005. The audits have been delayed until the city's outside auditing consultant, Kroll Inc., completes its investigation into the city's pension problems.
Sanders spokesman Fred Sainz said the city would be able to issue the first round of pension bonds securitized by tobacco settlement revenue without completing financial audits because "it's a well-tested transaction that the markets have a history with and are familiar with."
Calls to San Diego Chief Financial Officer Jay Goldstone were not returned.
Waiting Not An Option
McAllister said although the city will likely have to pay higher interest rates to borrow funds to close the gap on the pension deficit, doing nothing isn't an option.
"As the interest rates continue to rise, the market is going to tighten, and it's going to get more difficult to do this type of thing," he said. "But if they don't do it and wait a year or two, the rates and costs will be greater."
A recent pension bond issued by San Bernardino County was priced at 6.15 percent. McAllister surmised from talking to Wall Street bond analysts that San Diego could pay at least 6.65 percent, but much depends on what credit rating agencies say.
As the city's pension crisis has exploded in recent years, the city's once-stellar credit rating has been downgraded and suspended by the agencies.
Public Vote Not Needed
Should the city move ahead with Sanders' initial request to issue the first tranche of pension bonds, the action would not require a public vote because it does not involve any new tax.
In terms of its outstanding debt obligations, San Diego is relatively moderate when compared with other large California cities and the largest cities in the nation. According to a recent financial forecast done by the city, as of June 30, it had outstanding direct debt of $531 million. The largest component of that, about $516.5 million, was in the form of lease obligation bonds such as those issued to build Petco Park and to expand the San Diego Convention Center.
In a ratio using direct debt to the per capita population, San Diego's was $409 per person, compared with $691 for the state's 10 largest cities, according to the forecast.
Sanders' financial recovery plan also calls for the elimination of 500 jobs from a total full-time work force of about 10,400. Sanders did not specify where the cuts would be made but said these would not come from the city's police or fire departments.
Other elements in the plan include increasing the reserves in its general fund from 3.73 percent of the total to 5.85 percent; dedicating at least $20 million for deferred maintenance projects; and launching a managed competition program to allow the city to outsource some of its current operations to the private sector.
Sanders released his full budget for the upcoming 2007 fiscal year April 14 in advance of City Council budget sessions that begin on April 19. The budget must be adopted before the fiscal year begins July 1.