Week in Review
Monday, April 3, 2006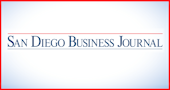 Quote of the Week
'San Diego, for the first time in its entire history, is being looked at worldwide as a place to put money in real estate.'
, Lou Galuppo, professor at the Burnham-Moores Center for Real Estate at the University of San Diego. Click here for the story.
Friday, March 24
Jobless Rate Ticks Up: San Diego's unemployment rate in February came in at 4.1 percent, just a tenth of a percent above the January rate, according to the monthly report released by the state Employment Development Department.
As it has for much of the past decade, the rate was below that of California's at 5.1 percent, and of the nation at 5.4 percent for the same month.
Total non-farm jobs in the region rose by 6,500 to reach a total employment of 1,290,800.
, Mike Allen
Monday, March 27
Honeywell Buys Sempra Unit: Sempra Generation, an arm of San Diego-based Sempra Energy, announced it will be selling its energy services group to Honeywell Building Solutions, a business unit of Honeywell International Inc. Terms were not disclosed for the deal, which is expected to close early in the second quarter of 2006.
The energy services group, with offices in Los Angeles, Houston and Albany, N.Y., provides energy-performance contracting solutions for federal, state and local government facilities, hospitals and health care facilities, colleges and universities and other commercial energy users. Its services help customers lower their energy and operational expenses by improving efficiencies or generating alternative power.
Sempra Energy companies have 14,000 employees who serve more than 29 million consumers in the United States, Europe, Canada, Mexico, South America and Asia.
, Julie Gallant
- - -
SGX Stock Flies: San Diego's SGX Pharmaceuticals, Inc. saw its shares surge almost 45 percent on news of a partnership with Swiss pharmaceutical giant Novartis to develop a drug to treat blood cancer.
SGX, which became publicly traded on the Nasdaq late last year, will receive $25 million upfront for the partnership and possibly more than $515 million total if the drug is developed successfully. SGX expects the first drug candidate from the partnership will enter clinical trials by early 2007.
The companies will work to develop an improved version of Gleevec, a blockbuster drug federally approved to treat blood cancer, or chronic myelogenous leukemia, in 2001.
Gleevec brought in $2.2 billion in 2005, according to Novartis' annual report. The companies see a need to improve the drug because patients grow resistant to Gleevec after years of treatment, the companies said.
SGX shares, traded as SGXP, closed March 27 at $7.87. The companies announced their partnership at 9 p.m. Shares rose in after-hours and pre-market trading to open at $11.38 on March 28. They were trading up nearly 12 percent, or 92 cents, at $8.79 by late afternoon.
, Katie Weeks
- - -
Win For Sanders: San Diego Mayor Jerry Sanders won a major victory after the City Council , with one dissenting vote , agreed to place his two proposals on the Nov. 7 general election ballot. The measures would permit competition for city services, and require voters to approve all future pension benefit increases. Eighth District City Councilman Ben Hueso opposed the measures.
, Pat Broderick
Tuesday, March 28
New Track For Asbestos Litigation: In an attempt to assist criminal charges against San Diego Gas & Electric Co., the San Diego County Board of Supervisors voted to withdraw a civil suit filed in state Superior Court. The vote was 4-0, with 5th District county Supervisor Bill Horn abstaining.
The county's charges were filed in connection with the defendants' alleged removal of underground pipe containing asbestos materials in a 16-acre site in Lemon Grove.
The county pursued civil penalties, alleging that SDG & E; violated laws and regulations relating to the removal, storage and disposal of asbestos-containing materials during the decommissioning of SDG & E;'s former Encanto Gas Holder Station in 2000.
The U.S. attorney's office initiated its own criminal action against the utilities company in January based on many of the same facts included in the county's civil case.
The U.S. attorney asked the state court to stay the civil action, saying that SDG & E;'s parent company, San Diego-based Sempra Energy, would have the ability to obtain information from witnesses in the civil case that would prejudice the criminal prosecution.
The Superior Court denied the request.
, Julie Gallant
Wednesday, March 29
In Court Again: San Diego-based Qualcomm Inc. announced that it has filed another patent infringement case against Broadcom Corp. of Irvine.
Qualcomm, which licenses technology used in wireless phones, accuses Broadcom, a communications chip maker, of patent infringement for its wireless chips, according to the latest suit filed in federal court in San Diego.
This is Qualcomm's third patent suit against Broadcom.
Broadcom has filed its own complaints against Qualcomm, alleging the violation of several patents. Broadcom also is one of six companies that filed an antitrust suit in Europe against Qualcomm last fall.
, Julie Gallant
Thursday, March 30
Catch Our Smile: In a nod to San Diego's business heritage, US Airways has dressed an aircraft in the colors of Pacific Southwest Airlines, the locally based carrier that merged out of existence in 1987.
The company dedicated what it calls a "throwback" aircraft in ceremonies at PSA's former corporate headquarters, now the commuter terminal of the San Diego International Airport.
The company merged with USAir in May 1987. USAir has since changed its name to US Airways. The company is based in Tempe, Ariz.
, Brad Graves