Nothing Small About Local Nanotech Boom
Monday, April 3, 2006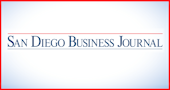 Good things that start small don't stay under the radar for long , at least in theory.
Nanoparticles, or those with atoms arranged at the 1 to 100 nanometer scale, will forever be invisible to the naked eye, but an emerging local group fostering a nanotech boom here is exploding in plain view.
When the mastermind behind NanoBioNexus, Adriana Vela, came to San Diego just a few years ago, there was no nexus for the nano and the bio.
The visionary mother of two who had no contacts here when her family relocated from San Jose has built a 2,000-member force on the verge of becoming the Biocom or Connect of nanotechnology. San Diego-based Biocom represents 400 life sciences firms in Southern California, while La Jolla's Connect is an influential networking group for local high-tech startups and investors.
NanoBioNexus, a nonprofit trade group created in 2004, was recently granted $700,000 by the National Cancer Institute and designated to lead the educational component for one of five national Centers of Cancer Nanotechnology Excellence at UC San Diego.
Vela, 45, a former software developer and later a marketing executive, has always had a strong interest in life sciences and helped grow a similar nanotech trade group in Silicon Valley.
"I have always been involved in changing technologies," Vela said. "Twenty years ago, I saw the writing on the wall: a trend towards miniaturization. And I turned my attention toward life sciences and the Human Genome Project. I just thought it was fascinating. There was nothing like (the Silicon Valley group) here."
Vela said it wasn't difficult to convince local members of the life sciences community that nanotechnology is an evolution worthy of investment.
Still, she began from scratch , searching the Internet for life sciences groups in San Diego , and found her first nanotech comrades at the events of networking groups such as Biocom, Connect and Women in Biosciences. Vela's work paid off: NanoBioNexus has garnered sponsors, including one of the world's largest law firms, Morrison & Foerster, and scored slots at international conferences.
Today, the NanoBioNexus management team of 12 includes a handful of venture capitalists, biologists and patent lawyers. Members include scientists, entrepreneurs, investors, attorneys and professors.
Educational Focus
As the only nanotech trade group here, NanoBioNexus has undertaken the responsibility of educating the life sciences community on nanotechnology through regularly scheduled forums with high-profile speakers, as well as webcasts. The group is also about to launch a paid consulting component to include matching investors with startups, providing financing advice and market assessment.
Industry members and analysts compare the growth of nanotechnology, which is impacting fields from aerospace and energy to health care and agriculture, to that of biotechnology.
But nanotechnology could provide a faster return on investment and higher earning potential partly because of its many practical uses in several industries, according to a 2005 report on nanotechnology published by the U.S. President's Council of Advisors on Science and Technology, or PCAST.
Nanotechnology is already used to make stain-free khakis, transparent zinc-oxide-based sunblock, scratch-resistant automobile paint and more powerful semiconductors, according to the PCAST report.
Vela said if companies don't get on the nanotechnology bandwagon, they'll be "obsoleted."
Acquisition Targets
Locally, companies such as Invitrogen Corp. have gobbled up small, but apparently promising nanotech companies such as Genicon Sciences, Quantum Dot Corp., and BioPixels in the last few years.
New Jersey-based Johnson & Johnson acquired San Diego's Egea BioSciences, Inc. in 2004, while pharmaceutical giant Eli Lilly & Co. swallowed up local nanotech company Applied Molecular Evolutions, Inc. the same year.
"They don't last long because they get acquired by bigger companies," Vela said.
The federal government is subsidizing nanotechnology research through programs such as Small Business Innovative Research, or SBIR, grants.
San Diego-based nanoComposix, Inc., a nanotech startup with five employees, has earned contracts worth hundreds of thousands of dollars with NASA and the U.S. Air Force through SBIR grants. Just last week, the company won a $750,000 contract to continue research for the Air Force for two more years.
NanoComposix President Steven Oldenburg said the venture capital community isn't yet widely interested in such early technology. NanoComposix, for example, is creating a more efficient radiator fluid for next-generation vehicles for NASA by employing silver rods at the nano scale.
Many Uses
Nanotechnology is a relatively new science, having grown partly from atomic force microscopy of the mid-1980s. Nanotechnology involves studying and applying the way compounds change properties when their molecules are rearranged on a nanometer scale.
Oldenburg, a member of NanoBioNexus for the last year, said nanotechnology is not an "industry," but a technology applied in many fields.
"That's why opening the community up for collaboration with groups like NanoBioNexus is essential," said Oldenburg, who, like others, has likened the nanotech boom to that of the dot-com craze in the 1990s. "It's critical that those things get started. That's what it's going to take."
Carolyn Favorito, a patent lawyer at San Diego's Morrison & Foerster office and co-chairwoman of the firm's nanotechnology patent practice, said the firm's list of more than 30 global nanotech clients is growing, having added three in the last few months.
"Nanotechnology reaches into many more industries than biotech," said Favorito, who also has a chemistry degree. "With biotechnology, we're talking about animals, pharmaceuticals and disease, but nanotechnology can be applied all over the board from health to explosives."
Nanotechnology-related patents increased by 217 percent from 1996-2003, with most of the increase in the chemical and pharmaceutical sectors. In contrast, overall patent activity increased 57 percent for the same period, according to the PCAST report.
Vela said she has already helped match a number of investors here with nanotechnology startups and receives inquiries from all over the world.
"Part of our vision is to put San Diego on the world map for nanotech, and I think we're accomplishing that. Researchers and entrepreneurs from other parts of the world knock on my door and want to somehow be involved, and we're pretty proud of that," Vela said. "I think it speaks to San Diego as a biotech hub. Other people want to know what is going on in San Diego, and we are like a window for them into the community here."