Chamber Endorses Sanders for Mayor
Thursday, September 29, 2005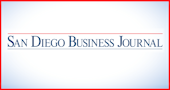 The San Diego Regional Chamber of Commerce on Sept. 29 announced the endorsement of San Diego mayoral candidate Jerry Sanders, who is running against City Councilwoman Donna Frye in the Nov. 8 election.
The chamber hasn't endorsed a mayoral candidate since well before Mayor Pete Wilson, who held the job from 1971 to 1983. No one is quite certain about who was tapped or when it happened.
"Today, the city of San Diego is faced with a seemingly insurmountable task of not just surviving this crisis, but finding a way to rebuild the city and the public's faith in government," said Jessie J. Knight Jr., the chamber's president and chief executive officer. "The chamber's board of directors believes that Jerry Sanders is the right person, with the skills and personality, to lead this city during this very challenging period."
Added Mike Murphy, the chamber's chairman, "We have always had the perspective that we have a responsibility to work with whoever is elected to City Hall. Due to the severity of the existing situation, the board chose to break from its historical policy of neutrality and focus on endorsing the individual we believed was most qualified to provide comprehensive leadership, fix our existing problems, and help restore the operational excellence this city once possessed."
Frye, in an interview Sept. 29, said, "I'd certainly like to get all the endorsements. Who wouldn't? But it's up to the voters to determine whose plan will actually work. I am confident enough in my plan."
She added, "I have great support among the business community, particularly the small businesses."
The chamber also will be evaluating candidates running for the vacant City Council seats in the 2nd and 8th districts and is expected to make a decision on possible endorsements in October.
Pat Broderick