SDG & E; Beefs Up Its Use of Solar Energy
Monday, September 12, 2005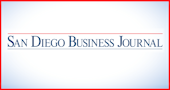 Renewable energy efforts in San Diego County may get an enormous boost soon now that San Diego Gas & Electric Co. has contracted with a Phoenix-based company to buy 300 megawatts of solar electricity , enough to power nearly 300,000 homes.
The 20-year contract, which was announced Sept. 7, is pending approval by the California Public Utilities Commission. Although there's no official timeline for when that will happen, Terrie Prosper, the commission's press secretary, said the panel will likely need a month to review the contract before it can make a ruling. Prosper said she couldn't comment any further on the contract because she and other commission officials have not yet seen it.
In the meantime, SDG & E; is remaining optimistic. Company spokesman Ed Van Herik said the commission has a history of being very supportive of renewable energy projects.
The newly announced contract is with Stirling Energy Systems and leaves room for SDG & E; to triple its purchase order to up to 900 megawatts of solar power in the future.

"We believe this is a truly historic moment for the solar energy industry," said Bruce Osborn, Stirling's chief executive officer. "We are pleased to be teaming with a progressive and creative company like SDG & E.;"
Stirling will harness solar power for SDG & E; from a roughly 3-square-mile facility in Imperial Valley. Financial details of the contract are not being released, Van Herik said.
In addition to commission approval, the installation of transmission facilities is needed before SDG & E; can start bringing more renewed energy to its customers. A new transmission line, called Sunrise Powerlink, is under development between San Diego and Imperial counties and could potentially carry energy from geothermal and wind sources as well as solar projects.
"By tapping into the developing renewable energy market in Imperial Valley, we can improve our overall system reliability and the environment at the same time," said Edwin Guiles, the chairman and chief executive officer for SDG & E.;
The new link between San Diego and Imperial counties will also need to be approved by the CPUC. A formal application and environmental report on the project are expected by mid-2006 and the link itself will likely be in service by 2010, according to company documents.
If the Stirling contract is approved and the Sunrise link is operating and able to deliver those 300 megawatts to its customers, SDG & E; will have an easier time meeting its goal of having 20 percent of its product come from renewable energy sources by 2010. The 300 megawatts would account for only about 3.7 percent of the 20 percent goal, but if the company exercises its option for 900 megawatts, that would put SDG & E; more than halfway to meeting its objective. The difference would be made up with other renewable projects to come.
"This project is a good example of SDG & E;'s commitment to meeting a 20 percent renewable requirement by 2010," said state Sen. Denise Moreno Ducheny, D-San Diego. "This agreement develops a greater sustainable regional energy source, which means cleaner air for the region."
The 2010 goal being followed by SDG & E; was actually set by the California Public Utilities Commission and is an aggressive play on another state law that requires local utilities to garner 20 percent of their product from renewable sources by 2017.