Construction Journal
Monday, September 12, 2005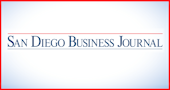 Good & Robert, Inc., a Vista-based contractor, has started work at the Cajon Valley Middle School joint use gymnasium in El Cajon.
Cost: $757,000.
Project manager: Julie Mitchell.
Superintendent: Dick Winn.
Construction manager: John Krueger.
Design team: Patty Sprotte and Joe Kelly of Sprotte and Watson Architects.
Subcontractors: Area-West Fence, Spooner's Woodworks, Chapman Diversified and Hufcor-Airwall.
The company has completed tenant improvements for DexCom in San Diego.
Cost: $115,000.
Superintendent: Mike Granger.
Subcontractors: Rancho Glass, Thomas Acoustics, CJ's Interiors, Gary Cornell Painting, West Coast Fire Protection and Ickler Electric.
The company also has started work for Rexford Industrial Realty & Management, Inc., in San Diego.
Designer: Esbensen & Associates Architects.
Oversight: Lori Woodcock.
Project manager: Julie Mitchell.
Superintendent: Doug Mitchell.
Subcontractors: G.D. Heil, Commercial Openings, SCS Flooring, Apex Mechanical and Gary Cornell Painting.
- - -
Venture Corp. has started work on Venture Commerce Center in Ocean Ranch in Ocean & #173;side. The first phase of the project offers 24 properties, in four buildings, and is being developed for office, research and development, and light industrial companies.
Brokers: Phil Linton, Mike Erwin and Justin Beattie, Grubb & Ellis/BRE.
- - -
Tucker-Sadler provided architectural services for Serenity Cottage, a new 5,839-square-foot nursery at the Polinsky Children's Center in Kearny Mesa.
Project manager: Gary Thu.
Interior designer: Debbie Laughlin.
Structural engineer: Martin & Libby.
Civil engineer: Martin & Ziemniak.
Electrical, mechanical and plumbing engineer: Salehi & Salehi Inc.
General contractor: John Carey Construction Co., Inc.
Interior furnishings: We-R-Fabrics/We-R-Home.
Oversight: Dave Snyder.
- - -
Johnson & Jennings General Contracting has completed tenant improvements for the 4,000-square-foot offices of Austin Veum Robbins Partners in Downtown San Diego.
Project manager: Ken Worthen.
On-site supervisor: Mike Harrison.
Subcontractors: GP Acoustics, Dynalectric, Howard's Rug Co., Millwork Co., and Interior Specialties.
Send news of contract awards and construction commencement and completion for the Construction Journal to Pat Broderick at pbroderick@sdbj.com or call her at (858) 277-6359, Ext. 3112. Please include the address, contractor, architect, square footage and cost.