Magazine Again Recognizes SDSU Program
Monday, September 5, 2005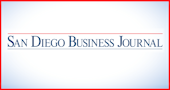 Thanks to ever-changing technology and a growing global attitude, future business leaders have to dig deeper than the status quo if they want to be successful.
Enter San Diego State University's international business program, which ranked ninth in its category in last month's U.S. News & World Report 's annual college survey.
According to program Chairman Steven J. Sacco, it's a combination of foreign languages, hands-on experiences and multiple degree awards that makes the program so successful.
"What I think really sets us apart is our study abroad program," Sacco said. "Students have to take classes taught in another language while competing with other native students, who are sitting right next to them in the class."
Despite a demanding curriculum, the undergraduate program, which was founded in 1989, fell slightly in the report, issued Aug. 19. It was down two notches from last year's ranking. Last year's seventh place ranking was the highest the program has ever placed on the "America's Best Colleges" list.
Despite the setback, Sacco happily accepts the ninth position, saying even Harvard University has been known to slip in the rankings from year to year, so there's no shame in San Diego State's current position.
The fall semester began for more than 33,000 Aztecs on Aug. 29. Roughly 700 of those students are enrolled in the university's international business program, which is also garnering rave reviews from one of its most recent alums.
Kristine van Genuchten graduated last month following summer sessions with a bachelor's degree in international business with an emphasis in German and Western Europe marketing.
"My experience within the IB department has been unforgettable, and I feel so honored to be a part of it," said van Genuchten, who wants to pursue a career in international marketing.
If she's lucky, she'll join the 15 percent of recent program grads making six-figure-a-year salaries.
Van Genuchten studied abroad at the School of International Business in Reutlingen, Germany, for one year. All students in the program must study abroad at approved schools in places such as Europe, Asia and Latin America for at least one semester or participate in an approved internship locally.

The experience is intended to teach them people skills as well as traditional academic business knowledge, Sacco said.
"The program is not easy," van Genuchten said. "(Students) must be dedicated and have an excitement for international affairs."
Because the program is so intertwined with abroad studies, multiple degree programs are set up with the foreign schools catering to San Diego State students. In fact, the program offers seven transnational dual degrees and three transnational triple degrees stemming from 50 partnerships in 16 countries. For example, students can study at San Diego State and Universidad Autonoma de Baja California for a dual degree under the program's Mexus arm or add in some time at the Universite de Qu & #233;bec a Chicoutimi for a triple degree under the program's Camexus arm. Both Mexus and Camexus are designed to give students a sense of what it would be like to do business just north and south of the U.S. border.
On the internship side of things, for students who cannot study abroad, the program annually helps foster between 200 and 250 internships with companies dealing in international business. Although most internships are set up with businesses based in the United States, more than 150 students have been able to combine their study abroad classes with global internships. About 80 percent of those internships done by program students are paid, leaving roughly 20 percent unpaid.
To learn more about San Diego State's international business program, go to www.sdsu.edu or call (619) 594-3008.