Despite Verdict, Acadia Stock Doesn't Take Hit
Monday, September 5, 2005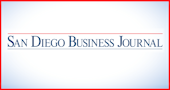 Acadia Pharmaceuticals, Inc.'s stock has been untainted despite a recent verdict that found the San Diego biotech, including one of its top executives, guilty of sexually harassing a former employee.
However, the company is concerned about the economic impact of the ensuing legal battle, apparent in a Securities and Exchange Commission report filed the day of the verdict. The Aug. 24 decision requires the company to pay $6.1 million to former Acadia scientist Audra Scully, 36. The company's insurance policy, which the firm has said it may use to pay part of its legal costs, is $3 million.
In the first day of trading last week , the first week following the announcement of the verdict , the company's stock rose almost 2 percent Aug. 26, selling for $9.39 a share on the Nasdaq stock exchange. The stock was holding steady at $9.45 a share Aug. 31.
A San Diego Superior Court jury found Acadia Executive Vice President Robert Davis, 54, guilty of sexually harassing Scully in 2003. The court also found Acadia founder and President Mark Brann, 46, guilty of retaliating against Scully by firing her last year after she reported that Davis, who according to court documents was married at the time, had made repeated sexual advances toward her.
The company has said in a statement that Davis and Brann "do not believe that the facts support the verdict," and they plan to appeal.
In addition to the $6.1 million Acadia and the two men must pay Scully, Brann must pay her an additional $1.2 million in punitive damages, and Davis is required to pay $600,000 in punitive damages.
Acadia officers also wrote in the recent SEC filing that appealing the court's decision may "consume a substantial portion of Acadia's managerial and financial resources, regardless of outcome, and may take years to ultimately resolve."
It also warns that if Acadia is not successful in its appeal, "Acadia's business, financial condition and results of operations may be harmed."
Acadia, which has about 100 employees, is a biopharmaceutical company working to discover drugs and treatments for central nervous system disorders including Parkinson's disease, glaucoma and schizophrenia. The company is headquartered in San Diego, but has research labs in Malmo, Sweden.
Acadia reported a net loss of $6 million for the second quarter of 2005 compared to $5.9 million the same period in 2004.
- - -
Biosite Gets A Waiver: San Diego-based Biosite, Inc. will soon begin marketing its test for congestive heart failure to about 100,000 more U.S. doctors' offices now that the portable 15-minute test was granted a waiver last week by the Food and Drug Administration. Previously, use of the test was limited to the approximately 18,000 facilities licensed to perform moderately complex tests.
The company likely won't see the financial benefits from the waiver until 2006, Biosite spokeswoman Nicole Beckstrand said. Beckstrand said the company does not yet have an updated revenue projection.
The waiver means the FDA has determined the test is simple enough to operate that it no longer requires labs to prove they are qualified to use it. The test, called Triage BNP, was previously used mostly in emergency rooms. It is used in 50 percent of U.S. hospitals, according to Biosite.
Under the 1988 Clinical Laboratory Improvement Amendments, the FDA can provide the waiver for lab tests that are simple, accurate and safe enough to be marketed to a wider audience without requiring as much technical training, according to the FDA.
Even without the waiver, Triage BNP accounted for 68 percent of Biosite's more than $240 million gross product sales in 2004, according to Biosite's annual report. The company's 2004 revenue was nearly $245 million.
The firm applied for the FDA waiver three years ago, Beckstrand said, and requests from the FDA for more information proving the device was safe and effective lengthened the process. She said Biosite hasn't announced employee additions.
The FDA approved Triage BNP in 2000. It works by measuring the brain natriuretic peptides in the blood. The hormones are released into the blood when the heart is under stress, as in heart failure.
Biosite is a biomedical company formed in 1988 that focuses on products, education and research to improve timely, accurate diagnosis of diseases. It has 1,200 employees in seven countries, however more than 900 are in San Diego.
Biosite may see competition for the Triage BNP if San Diego-based Nanogen, Inc. is successful in receiving FDA approval for its StatusFirst, a similar test for heart failure. Nanogen expects a verdict in the next few months. A spokeswoman for Nanogen said the company plans to market its product, if approved, only to emergency rooms and critical care centers.
- - -
Invitrogen, Scripps Form Partnership: Carlsbad-based Invitrogen Corp. has announced it is teaming with Scripps Research Institute in La Jolla to improve the way scientists are able to characterize membrane proteins. Scientists can design drugs that better bind to cell proteins, allowing medicines to work better.
Invitrogen will fund two postdoctoral researchers at Scripps, but the company declined to disclose the dollar amount. The project could last more than a year, Invitrogen spokesman Gregory Geissman said.
Because the company is funding the project, Invitrogen will have the rights to commercialize the resulting technologies in research and drug screening markets, Geissman said.
Contact Katie Weeks with biotechnology news at kweeks@sdbj.com or call her at (858) 277-6359.