Local Firm Looks to Help Build a Better Engine
Monday, October 24, 2005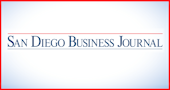 Faced with consumers in search of better gas mileage at a more affordable price and increasingly stricter emission standards, automobile manufacturers and engine designers have the daunting task of figuring out how to create more fuel-efficient vehicles without breaking the company bank.
To address that problem, seven companies have teamed with Sorrento Valley-based Reaction Design to become charter members of a Model Fuel Consortium unveiled Oct. 17. The group includes ChevronTexaco, Dow Chemical Co., L'Institut Francais du Petrole, Mitsubishi Motors, Nissan, PSA Peugeot Citroen and Toyota.
The companies, which specialize in everything from building cars to studying fuel properties, are expected to work with Reaction Design officials during the next three years to provide suggestions on how Reaction Design can better develop software to more accurately test new fuel-efficient engine designs on a computer before costly prototypes are built. Additional members are also expected to join the group in the next two calendar quarters.
"Of course everyone is well aware of what's happening lately with the gas pricing, but what most people might not be aware of is that the government emission standards are getting stricter and stricter," said John Garrison, the vice president of marketing for Reaction Design, which was founded in 1995 and has 13 full-time employees. The company is privately held and has a history of offering chemical reaction simulation products for other purposes.
Garrison further noted that manufacturers and designers alike are essentially being faced with doing more with less in an attempt to stay competitive and keep the government happy.
"Simulation is an increasingly important part of engine development to maximize enviro-friendly performance," said Shigeo Furuno, the general manager of the Toyota Power Train Engineering Division.
Antonio Pires da Cruz, assistant professor of the L'Institut Francais du Petrole, said, "(This) is a great opportunity to collaborate with worldwide automotive engine (manufacturers), oil companies and research laboratories toward the common goal of environmental protection."

A formal consortium work plan is expected to be adopted by the end of the year and some of the information that will be shared by the group members already exists in company records, so engineers at Reaction Design shouldn't have to wait to get started on their efforts, according to Bernie Rosenthal, the chief executive officer for the company.
While computer-aided programs are used widely to test the aerodynamics of a new vehicle design, chemical reactions like those essential in a fuel-efficient engine are far less predictable in simulation programs as designers experiment with gas, diesel, kerosene, ethanol and other bio-type additives, Garrison said.
Rosenthal said that testing new engine ideas on a computer vs. building a prototype would save a company time as well as money, making it easier to stay competitive.
"It's a multimillion-dollar exercise to actually put together a new engine," Rosenthal said.
Funding for the consortium is coming from Reaction Design, which also has an office in Japan, and membership dues paid by participating companies. Garrison declined to release any specific company financial figures.