Hotel Values Keep Climbing as S.D. Properties Sizzle
Monday, October 24, 2005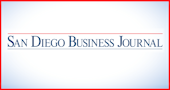 For those fortunate enough to own a hotel or two in San Diego, it's quite likely they are more fortunate this year than in 2004.
According to Alan Reay, president of the Atlas Hospitality Group, which compiled a mid-year survey of hotel sales throughout California, the county's lodging industry led the state in price appreciation.
The study by the Costa Mesa-based real estate brokerage shows that on a per-room basis , the yardstick for measuring property values in the lodging industry , the median price for San Diego's hotels was the highest in the state , rising 55.6 percent to reach $96,591 on average during the first six months of this year compared with the same year-ago period.
"It's a good thing if you're a hotel owner in San Diego because prices and values are way up," said Alan Reay, the president of Atlas Hospitality Group. "But it's not such a good thing if you're an individual buyer trying to get into this market. Stronger buyer demand for San Diego is driving prices up."
A primary factor fueling demand, he said, is the fact that the county's hoteliers have enjoyed relatively high occupancy rates. According to the latest information from Smith Travel Research, a well-recognized firm that independently tracks the lodging industry nationwide, occupancy at the county's hotels averaged about 76 percent year-to-date through August. That, coupled with their ability to increase room rates, has enabled hotels to reap higher revenues, Reay said.
"One thing investors look for is profitability," Reay said. "And there's no question that San Diego's hotels have seen a strong increase in profitability."
A Lot Of Activity
Within San Diego County, 16 hotels with 1,566 rooms sold during the first half of 2005, generating $229.3 million. That compares with 13 properties with 1,325 rooms that sold during the same period of 2004 for a total of $64.6 million.
The three largest transactions during the first six months of 2005 were the Hilton San Diego Gaslamp Quarter that went for $85 million; the Hilton San Diego Mission Valley that sold for $46 million; and the Courtyard by Marriott San Diego in Downtown that fetched $44.2 million.
Had the Hilton San Diego Gaslamp sold during the first part of 2004, Reay said the price would have been remarkably lower , $72 million, in his opinion. The Hilton San Diego Mission Valley, meantime, may have sold for $40 million, Reay added.

Some analysts believed the market was nearing its peak last year and wouldn't go much higher. But owners of significant properties obviously thought otherwise. The largest transaction during 2004 was the 192-room Residence Inn Mission Valley, which went for $37.2 million

Bob Rauch, director of San Diego State University's Center for Hospitality and Tourism Research, said another key factor fueling higher prices is the low cost of financing for hotel transactions.
"The capital that is chasing deals is very conservative in terms of the returns that are required," he said.
As Rauch pointed out, real estate investment trusts only need to have a 10 percent to 12 percent return on equity to enable them to pay a dividend and handle the costs of administrative overhead.
"The lack of need for high returns has driven the prices (of hotels) up," Rauch said.

According to lodging industry analysts, California is one of the hottest hotel markets in the country, and San Diego is the hottest of the hot.
Reay's midyear survey shows there were 177 transactions in the state totaling $1.5 billion, up almost 65 percent from the first six months of last year.

Trophies Will Hold Allure
Rauch and Reay said they expect that REITs and pension fund investors will continue to pursue what they call San Diego's "trophy," or large, full-service properties. But they also anticipate an exodus of individual buyers who will go elsewhere within the state looking for lower-priced properties.
An individual, or "opportunity buyer," Rauch said, would typically need to make a 20 percent return on their investment. However, as prices go up, such a rate of return becomes more difficult.
Said Reay: "I'm seeing buyers now start to look elsewhere because of the high prices in San Diego. They can get more for their dollar in other places. They want upside potential. They're looking in Northern California, Los Angeles, Orange County and the Inland Empire."
According to Reay's report, the median price of rooms sold in Los Angeles County's hotels was $91,429. In Orange County, the figure was $85,720 , the same as in Riverside County. In San Francisco County, the median price per room was $60,185.
Reay also thinks high prices of existing hotels will spur development.
"That typically happens when prices of existing properties are at or above replacement costs," he said. "Yet it's difficult to find land for large-scale commercial developments in coastal cities like San Diego."
Rauch disagrees, saying that he anticipates the county's hotel inventory will continue to grow at a steady rate of 2 percent.
"There are several hotels planned, but I think they will take a long time to build," he said. "What's important is what has broken ground."
Among the large-scale properties planned for the county, the San Diego Unified Port District has accepted bids for one at Lane Field, across from the B Street Terminal. The Port District, which oversees the tidelands from Downtown south to Imperial Beach, has also received responses to a request for qualifications for another hotel and mixed use development on the Chula Vista bay front. Others, including a proposed 1,200-room Hilton, adjacent to the San Diego Convention Center on Downtown's waterfront, have yet to be financed. Meanwhile, a 250-room Hard Rock San Diego Hotel and a 334-room Renaissance Marriott Hotel are under construction in redeveloped areas of Downtown.

But inflated prices and lack of land don't concern Jack vanHartesvelt, senior vice president and a principal of Seattle-based Kennedy Associates Real Estate Counsel Inc., which is nearing completion of a deal to acquire the 421-room Hyatt Regency Islandia Hotel on Mission Bay for $62 million. The property sits on a land leased from the city, and Kennedy Associates and its partner in the deal, CalPERS, the state's retirement system, plan to pump another $36 million into upgrades and repairs.
"Normally we either build or do heavy renovations," vanHartesvelt said. "We take things that are somewhat broken and fix them up and reposition them.
"So for us this market is not all that different than it was before. You have to know what you're doing and you have to be willing to put up with problems. But a lot of companies don't have that expertise. They don't want to create value. They want to buy something that's proven."
Aside from the Hyatt Regency Islandia and the 259-room W San Diego in Downtown's Marina District, which his company bought and renovated three years ago and now has for sale, vanHartesvelt has recognized other diamonds in San Diego's rough. But he declined to say where they are.
"You and a million others drive by them every day and you don't recognize them. But I see them," he said.