Coastal Panel OKs Resort Plan
Monday, October 17, 2005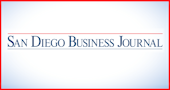 The $850 million Liberty Station mixed-use development under way on the site of the former San Diego Naval Training Center in Point Loma got another green light Oct. 12 from the California Coastal Commission.
The board unanimously approved plans for the project's resort village, a hotel complex that will host a 200-room Courtyard by Marriott, and a 150-room Hilton Homewood Suites, and a 33,000-square-foot conference center.
The project is slated to begin construction in early 2006, with completion expected for late 2007.
When completed, the development will include 125 acres of parks, open space, and a boat channel, shopping villages and restaurants, a 28-acre civic, arts and cultural district known as NTC Promenade, the newly renovated nine-hole Sail Ho golf course, the two hotels, 349 homes, and a 22-acre educational campus, anchored by High Tech High.
Construction began in August on the 46-acre regional park along the waterfront that includes an esplanade, ball fields and open grass areas.
Liberty Station Resort is a venture between Huntington Hotel Group and San Diego-based Corky McMillin Cos.
Pat Broderick