The Funding of Fleet Week
Monday, October 10, 2005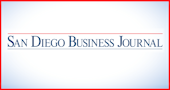 Forget the tax advantages; community giving appears to be good for business, especially for defense contractors sponsoring San Diego's ninth annual Fleet Week celebration.
More than $500,000 was raised in support of this year's celebration, a monthlong tribute to the military running through Oct. 28 that honors local Navy, Marine and Coast Guard personnel with everything from race car festivals to ballroom dances. Mostly, the money came from defense contractors sponsoring an event, with anywhere from $10,000 to $50,000 donations.

Among the largest contributors was Raytheon, Inc., which has 80,000 employees worldwide and reported $20.2 billion in revenues last year.
Raytheon gave $50,000 to Fleet Week to be named a five-star sponsor. While the company's headquarters are in Massachusetts, several Raytheon divisions are based in San Diego, including Integrated Defense Systems and Photon Research Associates.
"We continually strive to maintain good relationships with the military; it's a matter of good business and good will," said Dick Evert, manager of San Diego field operations for Raytheon. "If you're going to really provide good products that are wanted and useful, which Raytheon does strive to do, you have to get in there and talk to the people who will use them and understand who it is you're helping."
Without help from sponsors such as Raytheon, Fleet Week organizers say many of the events tied to the celebration would be impossible to host.
"We couldn't do it without them," said Tom Caughlan, the executive director of the San Diego Fleet Week Foundation. "All of the publicity, catering and other logistic matters take money."
Once logistics are handled, any and all leftover sponsorship money is given to the local USO, Navy-Marine Corps Relief Society and the Armed Services YMCA.
Other defense contractor "Star" sponsors of Fleet Week include San Diego-based General Atomics and Northrop Grumman, which has headquarters in Los Angeles but maintains several San Diego offices. Each company gave $35,000 to be named four-star sponsors.
Meanwhile, Maryland-based BAE Systems, New Jersey-based DRS Technologies and San Diego-based Nassco/General Dynamics each gave $25,000 as three-star sponsors. Although BAE and DRS have headquarters outside of San Diego, they, like Northrop Grumman, have offices here.
Other defense contractor donors with local offices but headquarters elsewhere include Computer Science Corp. and Lockheed Martin. Both of those companies, along with San Diego-based contractors Science Applications International Corp. and Cubic Corp. gave $15,000 as two-star sponsors. Analex Corp.-ComGlobal Systems, Inc., another San Diego-based contractor, gave $10,000 to be a one-star sponsor.
All of this year's Star defense contractor sponsors of Fleet Week say the event is only one of many military appreciation programs they contribute to throughout the year.
Academically speaking, there are several factors that compel companies to support community-based events, said Dennis Guseman, dean of the College of Business Administration at Cal State San Marcos.

"It mostly boils down to name exposure," Guseman said. "Companies want to have their names in front of desired markets, especially when it has positive connotations for the business."
When it comes to Fleet Week, Guseman said there is good reason for defense contractors to come out in force.
"The purpose of Fleet Week is to promote or create awareness for the Navy and the positive things they are doing to the general public," Guseman said. "A defense contractor, by being a sponsor of this event, is helping to promote positive images for the military, which helps them if more favorable attitudes exist toward the military and defense."
Frank Hewitt, the president of ComGlobal Systems, agrees.
"We consider it extremely important to provide support to the military through our contributions," Hewitt said, noting that showing public appreciation rather than networking with clients is ComGlobal's main motivator.
But some defense contractors are willing to concede that networking is one of the perks of sponsorship.
"We do it principally because San Diego has made the decision to make Fleet Week its premier salute to the local military and that's something we want to help with," said Stephen Clarey, director of marketing and public relations for Nassco. "But certainly it helps us in meeting with the Navy leaders in San Diego."
Nassco, which employs more than 4,000 people and is the only major ship construction yard on the West Coast, helped establish the San Diego Fleet Week Foundation in 1997.
Making A Connection
Although some positive networking goes on among sponsors of Fleet Week and local military leaders, it's more of a side effect and less of a mission of the event, said Gerald Dinkel, Cubic's president and chief executive officer.
"It's the goodwill aspect of it, not really business development that we're after," Dinkel said. "It can reinforce your name, but it's more about relationships than anything."
Randy Walti, senior vice president for General Atomics, said even if companies wanted to do business during Fleet Week events, they'd be hard-pressed to find the right personnel present.
"You're not going to get a lot business contacts out of Fleet Week because these people are more operational; our 'clients' are mainly in Washington, D.C.," said Walti, whose company was originally founded in 1955 as a division of General Dynamics, but is now privately owned and operated independently.
According to Guseman, all the networking and positive image-building companies conduct through public events such as Fleet Week, while not absolutely necessary, are good for business.
"Success in the long run boils down to providing customers with a better value, but in reality, in many cases, it's hard for companies to truly differentiate themselves through the quality of their products, in that the quality of the products is very similar," Guseman said. "So a firm differentiates itself through its service by establishing a relationship with its customer.
"Bottom line, a company can be successful without sponsoring these types of events and a company is not likely to be successful by sponsoring these events if they do not have a quality product. But by sponsoring these events, it does strengthen the relationship with its customers," he said.