Hurricanes' Effects Ripple Toward San Diego: 2
Monday, October 3, 2005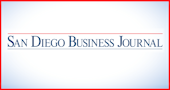 Officials from Sempra Energy are breathing a bit easier after concluding that two Sempra-owned parcels in the Gulf Coast , earmarked to be liquefied natural gas sites , suffered no serious damage in the wake of Hurricanes Katrina and Rita.
But, said a Sempra official, it's still too early to determine whether construction schedules previously set for the two sites can be maintained.
The San Diego-based Fortune 500 company had planned to open its two new LNG facilities along the Gulf Coast in late 2008 and 2009.
Sempra is now in the process of assessing the sites in Cameron Parish, La., and Port Arthur, Texas. Work on the Cameron site came to a sudden halt as warnings about Rita mounted late last month.
So far, said Sempra spokesman Art Larson, the damage appears minimal, but he also conceded that it's too early in the cleanup process to know for sure what issues might appear on the sites in the future.
Both sites are slated to become liquefied natural gas receipt terminals, which cool natural gas resources to a super-chilly 260 degrees below Fahrenheit.
When that happens, natural gas turns into a liquid that takes up to 600 times less space than its gaseous state, making it easier to transport larger quantities of natural gas to consumers.
According to a company statement, grading and initial site preparation work on the Cameron Parish LNG site was brought to a halt by the hurricanes when contractors on the job pulled out their equipment and evacuated before Rita made landfall nearly two weeks ago. The Port Arthur project is still in the permitting stages and wasn't affected by Hurricane Rita.
Larson said a recent company tour of the sites unveiled some road access issues, but nothing "major."
While it's unclear just how much the delay and the surrounding devastation might hamper Sempra's future construction plans, company Chairman and Chief Executive Officer Stephen Baum vowed to stay in the region.
"Despite the terrible impacts of the storm and flooding on the Cameron and Port Arthur areas, we at Sempra Energy are resolved and committed to moving forward with our investment in the infrastructure, communities and people of that region," Baum said in a company statement.
Sempra also runs seven Texas-based power plants managed by its Sempra Generation subsidiary. None of those facilities was damaged in the storms and all continue to operate, according to Larson.
Meantime, San Diego commuters are still feeling the effects of the hurricanes at the gas pumps. Though Rita didn't cause nearly the price spike that Katrina did in early September , prices jumped roughly a dollar in one week following the devastating hurricane , a gallon of gasoline remains at record levels in San Diego County.
Not coincidentally, the high gas prices have sent commuters scrambling for the nearest van pool, according to statistics from RideLink, a San Diego Association of Governments program that strives to reduce the number of single-passenger vehicles on the roads.
According to Charity Lacey, marketing coordinator for RideLink, the group, which serves as a free matchmaker for county commuters traveling similar directions, recently budgeted to help subsidize 475 van pools this fiscal year by allotting $400 per pool to cover the cost of leasing a van. RideLink's fiscal year began July 1 and the number of van pools already receiving assistance is up to 472 just three months into the 12-month fiscal year.
"Gas prices rising have had an enormous impact on our program," Lacey said. "We can't keep up. If we had unlimited funding, we'd have five times the number of van pools we have on the road today."
Lacey said that traditionally, RideLink receives about four to six requests a month to be paired with a van pool group. But recently, that number has grown to 25 requests a month.
"We're doing our best to fill them all, but there's just no way we can get to all the requests as quickly as we'd like to," Lacey said.