North County Home Prices Take a Slight Hit
Monday, November 28, 2005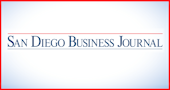 The real estate bubble might not be bursting in San Diego, but in North County, single-family detached and single-family attached home prices dipped to $555,000, from $565,000 in September.
Elsewhere in the county, prices were $495,000 in October, down from $499,000 in September.
That's the latest from the North San Diego County Association of Realtors' report for October.
A few tidbits:
- The median-priced single-family detached home in North County was $600,000 in October, a 3.2 percent decline from the $620,000 in September, compared with non-North County ZIP codes, where prices dipped from $552,500 in September to $548,000 in October.
- Ten percent of San Diego County households could afford the median-priced single-family detached home in North County in October, a 1 percent increase from September.
- Single-family detached median home prices were highest in Rancho Santa Fe (92067) at $3.05 million, with median prices above $2 million in Del Mar and Solana Beach, and more than $1 million in Rancho Santa Fe (92091) and Carmel Valley.
- On the lower price end, single-family median prices ranged from $475,000 in Vista to $567,500 in Oceanside.
- The median-priced single-family attached home in North County was $392,000 in October, a 2.2 percent increase from $383,500 in September, while elsewhere in the county prices rose 1 percent from $385,000 in September, to $388,750 in October.
- Some 24 percent of San Diego households could afford the median-priced single-family attached home in North County during October, down 1 percent from September.
- Median single-family attached homes were highest in Rancho Santa Fe at $1 million, followed by Del Mar, at $860,750, Solana Beach, $757,500, and Carmel Valley, $570,000.
- Lowest prices for single-family attached homes were reported in parts of Vista, San Marcos, Oceanside (92057), Rancho Bernardo, Rancho Penasquitos, Pauma Valley, Escondido and Bonsall, in the $300,000 range, while Escondido and Oceanside (92054, 92056) reported single-family attached median prices below $300,000.
- - -
More Northern Exposure: Meanwhile, CB Richard Ellis' most recent market report on North County concludes that the region is, and continues to be, one of the fastest growing areas in San Diego, with Oceanside and Carlsbad leading the way in commercial real estate development.
A few more tidbits:
- Carlsbad land values have risen 30 percent to 40 percent during the last 24 months.
- After South County, North County has the most available land left in San Diego.
"Central county is essentially built out, so many people are looking to North County instead," said Roger Carlson, vice president of CB Richard Ellis' brokerage services in Carlsbad.
But, he added, North County also is beginning to experience a land crunch, with Vista's market diminished, contributing to the rush on Carlsbad and Oceanside business parks.
North County's market also is being driven by "exceptional demand from owner-users interested in owning their own buildings," he said.
"These factors have created exceptional demand from developers for available land," said Carlson.
He estimates that North County has seven to 10 years of supply left in available land, and much of the land being sold is geared toward for-sale projects.
According to Jane McVey, director of economic development and redevelopment for the city of Oceanside, "There has been heavy land absorption in Oceanside over the last five years. Carlsbad and Oceanside are the powerhouses of the market right now."
- - -
Welcome To Paradise: Paradise Walk , billed as the first partnership in San Diego between a developer and a major employer to provide work-force housing , broke ground Nov. 15 at Eighth Street and Arcadia Place in National City.
A collaboration of the Olson Co., a Seal Beach-based homebuilder, and Paradise Valley Hospital, employees will be able to purchase a town home at Paradise Walk for about $50,000 under market rate for 60 days in advance of sales to the general public.
The concept is designed to attract and retain qualified health professionals by offering more affordable housing within walking distance to the hospital.
Paradise Walk, located on the 54-acre campus of the hospital, will feature 96 town homes, ranging in size from 1,315 to 1,656 square feet, with two-, three- and four-bedroom floor plans.
Paradise Valley Hospital is the largest employer in National City, with more than 1,400 employees. Currently, only 10 percent of the hospital's employees reside in National City, according to the hospital.
- - -
Big Deals: Hearthstone, a major institutional investor in residential development projects, has committed $76 million in a joint venture to build more luxury homes in San Diego.
This brings the San Rafael-based investment firm's stake in single-family homebuilding in the greater San Diego area to nearly $300 million since last year, according to Anthony Botte, senior vice president for the western U.S. region based in San Diego.
Hearthstone's latest commitment to Del Mar-based Davidson Homebuilders will enable construction of 61 luxury homes at Stonebridge Estates on 38.5 acres east of Pomerado Road, and east of Interstate 15 in Scripps Ranch.
San Diego-based Crown Pacific Properties, LLC, a diversified multifamily real estate company, and AEW Partners IV, L.P., a real estate opportunity fund managed by AEW Capital Management L.P., has announced the sale of the 442-unit Sunscape Apartments in Scottsdale, Ariz., for $53 million. The joint venture purchased Sunscape in October 2004 for $34 million.
CPP then joint ventured with a private equity source to purchase Sunscape from the CPP/AEW partnership, and has plans to convert the community into condos.
H.G. Fenton, a San Diego-based private real estate owner and developer, has sold 10 lots totaling 25 net acres in its 1.5 million-square-foot master-planned Carlsbad Raceway business park to Opus West Corp. for $16.2 million. Fenton plans to sell an additional seven lots totaling about 20 acres to Opus West in early 2006, and is retaining eight lots totaling 33 acres for its own development.
Opus West Corp. plans to build 583,000 square feet of office, research and development, and manufacturing space in a $105 million project called Opus Point. The 328,000-square-foot first phase will be built on the 20 acres it just acquired from H.G. Fenton Co., with groundbreaking set for January. The second phase will begin following the second acquisition of 20 acres, with construction expected to begin in late 2006.
Send residential and commercial real estate news to pbroderick@sdbj.com or via fax at (858) 571-3628.