Construction Journal
Monday, November 14, 2005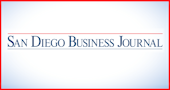 Johnson & Jennings General Contracting has been selected as the general contractor for the office renovation of Foley & Lardner LLP in Emerald Plaza on West Broadway in Downtown San Diego.
Cost: unavailable.
Project manager: Dean Petersen.
Superintendent: Garry Dickson.
Engineer: James Thiss.
Construction manager: Maggie Mandel.
Architect: DMJM Rottet.
Johnson & Jennings also has completed tenant improvements for a 9,500-square-foot Wells Fargo Bank training center in Mission Valley.
Project manager: Jim Lohnes.
Superintendent: Lupe Gomez.
Space planner: Designcorp International of Solana Beach.
- - -
Barnhart, Inc. of San Diego has completed a 186,000-square-foot parking structure for the city of Oxnard. The 466-space structure is part of an overall downtown redevelopment plan that includes a new multiplex theater and a complete remodel of existing downtown city offices.
Cost: unavailable.
Architects: Roesling Nakamura Terada Architects.
Construction manager: Channel Island Building and Development Partners.
Barnhart also has completed design-build services for Herbert Ibarra Elementary School in City Heights.
Cost: $16 million.
Architects: Ruhnau Ruhnau Clarke.
Project team: Steve Bovee, Linda Clark, and Cliff Gross of the San Diego Unified School District; David Ruhnau and Joe Calderon of Ruhnau Ruhnau Clarke Architects; and Dave Roach, Devin Patel and Deb Stepp, Barnhart.
- - -
Wermers Corp. in San Diego has completed the first buildings on the Towngate Apartments in Moreno Valley.
Cost: unavailable.
Project consultants: Irwin Pancake, Gable Cook & Associates, Van Dorpe Chou & Associates Structure Engineer, DGM Electrical Engineer, VAI Associates, and BJ Palm & Associates.
- - -
Benchmark Landscape, Inc. of San Diego has been awarded the landscaping contract for Electra, a 43-story condo high-rise to be built atop San Diego Gas & Electric Co.'s historic Station B in Downtown San Diego.
Cost: $200,000.
Architect: William Templeton Johnson.
Electra developer: Bosa Development.
- - -
Roel Construction has completed tenant improvements on the new Casa de Pico restaurant in Grossmont Center, which moved from Bazaar del Mundo in Old Town.
Cost: unavailable.
Owner: Diane Powers.
Architect: Studio C Architects.
Kitchen designer: Coast Restaurant Supply.
Group manager: Juliana Dupuis.
Project manager: Marty Stout.
Superintendent: Dan Dobler.
Project coordinator: Kia Hardy.
Subcontractors: Casper Co., Paul Hansen Equipment, Dreamscape, Angus Asphalt, Modern Masonry, Aero Steel, California Sheet Metal, Davis Framing, Equity Cabinet Co., Mountain Valley Waterproofing, ARC Roofing, JSI Door, Centex Glazing, Best Interiors, Mirstone, Daryl Griffs Acoustics, General Coatings, JBF, Bradshaw, Cass Plumbing, California Comfort Systems, and Force Electric.
Send news of contract awards and construction commencement and completion for the Construction Journal to Pat Broderick at pbroderick@sdbj.com or call her at (858) 277-6359, Ext. 3112. Please include the address, contractor, architect, square footage and cost.