Small Business Spotlight: Center for Health & Wellbeing
Monday, May 30, 2005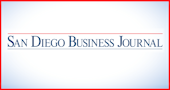 It's a bit uncommon to find a practice where a patient can receive a standard medical exam, followed by a massage and then acupuncture.
But that's what Dr. Janette Gray offers her patients.
"The Center for Health & Wellbeing is an integrative medical practice that blends the best of traditional Western medicine with the proven healing practices of many alternative and complementary therapies, including Oriental medicine and acupuncture, chiropractic, therapeutic massage and naturopathic medicine," she said. "Our goal is to provide patients with compassionate, patient centered, integrative medicine that is convenient, physician guided and reasonably priced."
As the medical director for the Center for Health & Wellbeing, Gray specializes in menopause treatment, anti-aging medicine, pain management, weight loss and nutrition.
The center, which operates out of two locations in Bay Park and Hillcrest, has increased its revenue from $1 million in 2003 to $1.2 million in 2004, an increase of almost 25 percent.
Resum & #233;
Name: Dr. Janette Gray.
Title: Medical director.
Company: Janette Gray, M.D., Inc., the Center for Health & Wellbeing.
Address: 3737 Moraga Ave., Suite A-305, San Diego.
Phone: (858) 454-9771.
Founded: Jan. 1, 1998.
Prior experience: Practicing as a doctor for the last 11 years at various locations, such as Logan Heights Community Clinic, Sharp Rees-Stealy Urgent Care, Center for Women's Medicine and the San Diego correctional facilities.
Average hours worked weekly: 40.
Source of startup capital: Blood, sweat and tears; a personal loan from Mercy Physician's Medical Group, a line of credit from California Bank & Trust, family loans and moneys obtained from personal savings and real estate investments amounting to $100,000.
2004 revenue: $1,249,750.
2003 revenue: $1,003,221.
Number of employees: 32.
Web site: www.chwbonline.com.
Background
Born: March 9, 1963, in San Diego.
Education: An associate of science degree in animal health technology from Mesa College; bachelor of science degree in biology from San Diego State University; medical degree from UC San Francisco. After medical school, she did her internship at Scripps Clinic and Research Foundation and completed her residency at UC San Diego.

Family: Border terrier, Lola.
Hobbies: Gardening, motorcycling, fine wines and drumming.
Judgment Calls
Reasons for getting into the business: A desire to offer patients a more holistic approach to health care that really helps them heal and helps change the way medicine is delivered.
How I plan to grow the business: The business model includes surrounding the main "corporate office" and medical facility with numerous satellite clinics, linked electronically, that offer the same core integrative services at each location. The goal is to open two additional clinics by 2007.
Biggest plus of business ownership: Freedom.
Biggest drawback: Stress.
Biggest business strength: My business partner, Mary Golden, and our ability to successfully mainstream integrative medicine within the constraints of the current medical system by assembling a team of talented staff and practitioners and designing tranquil medical environments that provide patients with therapeutic healing experiences all under one roof.
Biggest business weakness: Complexity of the medical system.
Biggest risk: Running a business relying on medical insurance reimbursements.
Smartest business decision: Realizing I couldn't run the business alone, so I surrounded myself with talented people so I could focus on being a great doctor and develop my integrative medical model.
Biggest business mistake: Initially offering too many services that took away from my ability to focus on the integration of what we now embrace as our core treatments; primary care medicine blended with acupuncture, chiropractic, therapeutic massage and naturopathic medicine.
Toughest career decision: Taking the risk of going into private practice.

Biggest ongoing challenge: Playing the insurance game and winning.
The most important part of my business: Quality patient care.
My business works best when: The whole staff is working as a team with one main objective: great patient care.
How your business has changed through the years: After we (the whole staff) read "Good to Great" by Jim Collins, we became hedgehogs with a deliberate focus on what we could do best in the world. At this point in our business, we embraced our five core offerings and began to excel with vision and purpose.
Best way to stay competitive: Embrace technology. In 2003, we invested in WebMD's comprehensive software program that includes electronic medical records, billing, online prescription writing and scheduling. It allows us to communicate from office to office without paper charts and provide more efficient patient care.
Goals
Goals yet to be achieved: Developing the retail end of our business, the Center for Health & Wellbeing's Mind Body Boutique.
My five-year plan: To have four or five clinics throughout San Diego County with the goal of mainstreaming integrative medicine.
Philosophy
I would sell my business only if: I could no longer sustain growth of the business and have fun doing it.
Guiding principles: Live, love and laugh.
How you measure success: Patient satisfaction and the number of patient referrals we receive from other patients.
Most admired entrepreneur: My sister, Maureen Gray, of KBM Building Maintenance.
Important lessons learned: To slow down and smell the roses and live in the present.
Advice for those looking to go into business: Pick your passion, think it through and make calculated risks based on a plan and go for it.