Construction Journal
Monday, May 30, 2005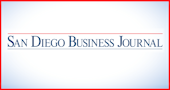 Johnson & Jennings General Contracting completed tenant improvement construction for the offices of Bumble Bee Seafoods at 9655 Granite Ridge Drive in the Murphy Canyon area. The project entailed the remodel of existing space to accommodate the reconfiguration of workstations.
Cost: $100,000.
Architect: Yen Architects.
Project manager: Carl Haines.
On-site supervisor: Paul Rose.
Subcontractors: Howard's Rug Co., Quality Painting, EF Brady, Interior Specialties, Dynalectric and ICS Mechanical.
- - -
TSA Contracting completed tenant improvement on the renovation of Hope Engineering's 7,300-square-foot office at 1301 Third Ave. The project included new carpet, paint, millwork, and minor electrical work.
Cost: $87,500.
Architect: Carrier Johnson.
Project superintendent: Butch Miller.
Project manager: Matt Hendry.
Project coordinator: Olga Munoz.
Project executive: Terry Arnett.
- - -
Smith Consulting Architects has designs under way for Palomar Forum West, a 270,000-square-foot business park to be built on three lots north of Palomar Airport Road between Melrose and Eagle drives in Carlsbad. The project will include spaces for lease, all with fully built-out interiors, offices, conference rooms and electrical rooms. It will be a mixture of two- and one-story units, divisible into units ranging from 700 to 4,000 square feet. Construction is slated to begin in June and reach completion in 2006.
Cost: unavailable.
Property owner and developer: Davis Partners.
Project manager: Larry Nelson.
General contractor: Lusardi Construction Co.
Principals in charge: Gary Baker and Mark Langan.
Property brokers: Rick Reeder, Don Grant and Andy Melzer of Grubb & Ellis/BRE Commercial.
- - -
Jossy + Carrier Design Group completed design for the build-out of a new 7,000-square-foot office for LISI, an insurance brokerage firm, at 110 Plaza at 110 W. A St. in Downtown San Diego. Distinguishing features of the project include a spacious conference room encased by glass panels and unique carpet patterns.
Cost: unavailable.
Property manager: BCL, Inc.
General contractor: Bycor Construction.
Principals in charge: Roi Jossy.
Designer: Lara Luparello.
Subcontractors: Rick's Electric, Mission Valley Cabinet, Superior Air, and Howard's Rug Co.
- - -
Benchmark Landscape, Inc., a landscape installation and maintenance services firm based in Poway, has begun landscaping work at NTC Promenade, a 28-acre area at the former Naval Training Center on Rosecrans Street in Point Loma. The landscaping will cover 90,000 square feet, of which 68,000 square feet is lawn, along with the installation of an irrigation system. Completion is scheduled for late spring.
Cost: $200,000.
Project manager: Dennis Bozykowski.
Foreman: Justino Arias.
Send news of contract awards and construction commencement and completion for the Construction Journal to Heather Bergman at hbergman@sdbj.com. Please include the address, contractor, architect, square footage and cost.