Liberty Station At a Glance
Monday, May 23, 2005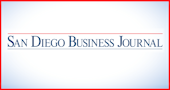 The $1 billion Liberty Station mixed-use project, now in various phases of development, is on the grounds of the former Naval Training Center in Point Loma, which closed in 1997 as part of the Defense Department's Base Realignment and Closure program.
The project, which includes a boat channel to San Diego Bay, is about six minutes from Lindbergh Field and Downtown San Diego.
Development began in January 2001, with build-out expected by 2008.
The project includes:
Residential: Three neighborhoods with 349 homes, with construction now finishing up on the final residential phase. Admiralty Row includes 80 single-family detached homes, Beacon Point 129 detached townhomes, and Anchor Cove 140 attached townhomes.
Office: Seven buildings, totaling 380,000 square feet of Class A office space. Two buildings were completed in November 2002 and the next two are under construction with estimated completion dates this spring.
Education: The Gary and Jerri-Ann Jacobs High Tech High, a public charter high school in the San Diego Unified School District, has been operating on the former base since September 2000.
Historic: The historic core, which consists of about 600,000 square feet of space in 60 existing structures, will be restored and renovated, eventually encompassing the 26-building NTC Promenade , a civic, arts and cultural center , as well as additional office, specialty retail, commercial and restaurant space.
Recreation: NTC Park is a 46-acre waterfront park that includes ball fields, picnic areas, basketball courts and two playgrounds. According to the San Diego-based Corky McMillin Cos., which is overseeing the redevelopment, the park will be the largest waterfront park in San Diego since Mission Beach Park was approved in 1982. A 6-acre waterfront esplanade and the renovation of the Sail Ho Golf Course are also in the works.
Retail: There will be about 150,000 square feet of retail space within the historic core, which may include a grocery store, specialty food shops and restaurants.
Hotels: Liberty Station Resort Village, recently approved by the San Diego Planning Commission, will include a 200-room Courtyard by Marriott and a 150-room Hilton Homewood Suites.
, Pat Broderick